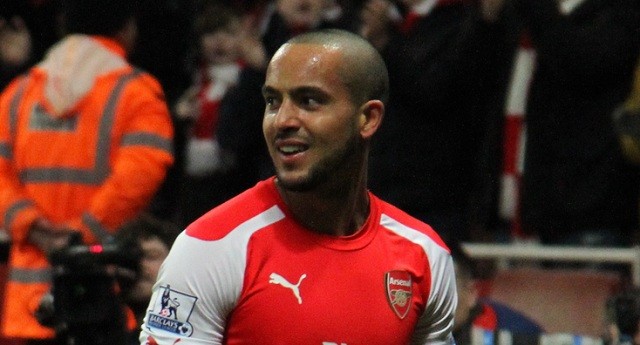 Not only do Arsenal endure an embarrassing 3-0 lose to Sheffield Wednesday in the League Cup earlier this week, but they also lost an important player in Theo Walcott.
Walcott came out of the game against Sheffield Wednesday with a calf injury after playing only 18 minutes.  Arsenal manager Arsene Wenger has now officially ruled out Walcott for the next three matches with the hope that he will be able to return after the international break in the middle of November.
Walcott is not the only Arsenal player experiencing injury problems.  Alex Oxlade-Chamberlain also suffered an injury in the game against Sheffield Wednesday, as him and Walcott now join Aaron Ramsey, Jack Wilshere, Mikel Arteta, David Ospina, Tomas Rosicky, and Danny Welbeck on the injury table.
Arsenal play 3 games over the next week and a half against Swansea City, Bayern Munich, and Tottenham.  The Bayern Munich game is particularly important for Arsenal as they are trailing Olympiacos and Bayern Munich by 3 points in the group stage of the Champions League. 
Arsenal will miss the speed that Walcott and Oxlade-Chamberlain provide them, especially against Bayern Munich when they will likely need to counterattack.  Walcott in particular will be a difficult loss for Arsenal, but his likely replacement, Olivier Giroud, is no slouch either.
Olivier Giroud has played well recently, and he is certainly more than an adequate replacement for Theo Walcott.  Giroud has scored a total of 5 goals in his past 5 matches, including a 2 goal performance for France during an international appearance in early October.
Giroud is a completely different player than Walcott, as he provides Arsenal with a major aerial threat, but lacks the speed that Walcott possesses.  This makes Arsenal a much different team when Giroud is on the field instead of Walcott.
With Giroud likely to start at striker for Arsenal for at least the next 3 games, Arsenal will now have to provide more crosses in an attempt to find the head of Giroud.  Arsenal will be a much different team with Giroud in the lineup, but Giroud is a very capable player, and he will not significantly hurt the team's chances of winning when Walcott is injured.