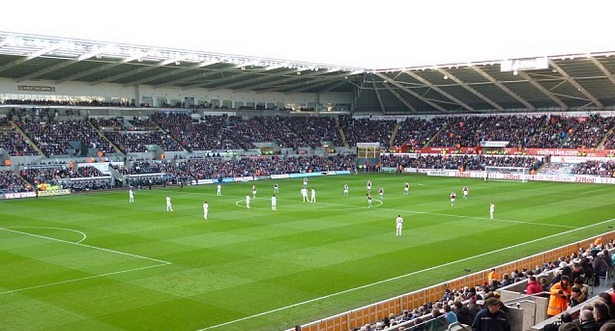 Arsenal and Swansea City play on Saturday at the Liberty Stadium.
Swansea has won the last two times these teams played. They beat Arsenal at the Emirates in May with a score of 1-0, and before that they beat them in November 2014 with a score of 2-1.
Arsenal put in a poor performance on Tuesday against Sheffield Wednesday. However, that match is not reflective of the team considering who started for the Gunners. Arsenal has won their last their last four games in the league and are only behind Manchester City in the table based off of goal difference.
Arsenal should be worried about the injury crisis they are facing on the right wing. Theo Walcott and Alex Oxlade-Chamberlain both came off against Sheffield Wednesday with muscular injuries and will miss at least the next three matches. Aaron Ramsey is still hurt and Jack Wilshere, Danny Welbeck, and Tomas Rosicky are long-term casualties. All six of these players would be options on the right.
Speaking at his press conference ahead of Saturday's match, Arsene Wenger acknowledged that his choice are limited on the right and he will have to choose between Joel Campbell and Alexi Iwobi. Both have played internationally, although neither impressed on Tuesday.
Not only are Arsenal suffering in right midfield, they are also suffering on their bench. Due to the fact that every single player that is injured, except for David Ospina, is an attacking player, they have no offensive options to bring on off the bench.
Considering the amount of injuries Arsenal is facing right now, the team essentially selects itself.
Here is Arsenal's probable starting lineup on Saturday.
Goalkeeper – Cech
Petr Cech had a poor game on Tuesday although it's very possible someone told him not to do anything to get hurt.
The Czech international has been in good form this season and pulled off a few excellent saves to ensure Arsenal kept their lead against Everton last weekend.
Right Back – Bellerin
The gap between Hector Bellerin and Mathieu Debuchy keeps on growing every time Debuchy steps on the field. Bellerin's stellar form isn't doing anything to close that gap either, though.
Center Backs – Gabriel & Koscielny
Per Mertesacker had a torrid match on Tuesday and it's hard to justify a place for him in the starting eleven. Gabriel did not on Tuesday, which may be an indication that Wenger sees the Brazilian as a starter for now alongside Laurent Koscielny.
Wenger may also choose to rest Mertesacker ahead of Arsenal's match on Wednesday against Bayern Munich. Mertesacker's experience could be invaluable in that match.
Either way, the BFG does not play.
Left Back – Monreal
Nacho Monreal has been in excellent form and should be in the conversation of one of the best left backs in the league this season. Kieran Gibbs didn't do anything to justify more playing time.
Defensive Mid – Coquelin
Francis Coquelin's play has been an important factor in Arsenal's current form. He is the club's emotional leader on the pitch.
Center Mid – Cazorla
Santi Cazorla could play on the right, but Wenger indicated unwillingness to do so because it would create more imbalances in the squad.
Cazorla spoke to the club's website about how he has changed his game to play in a deeper role.
Attacking Mid – Özil
Arsenal needs Mesut Özil to continue his excellent form now that they are lacking a true threat on the right. Özil is playing better than he ever has in an Arsenal shirt. He is clearly healthier and more comfortable playing in the physical Premier League.
Wide Right – Campbell
Campbell will get the start over Iwobi, who will start on the bench. Campbell is the more experienced player and shows excellent fight. He lacks any real finishing product and the best that you can expect from him is that he will work hard for the team.
The Costa Rican international didn't bring anything to the match on Tuesday in terms of creativity or finishing. He did put in a few well-timed tackles though and showed willingness to defend.
The sooner Arsenal gets Walcott, Ramsey, and the Ox back to health, the better.
Wide Left – Alexis
Alexis should be refreshed after a good weeks rest. Considering his ability to physically recover fast, the week should be all he needed to work off some of the jadedness he showed last weekend.
Alexis may feel a little extra pressure to perform considering Arsenal's lack of options up front. He has been in extraordinary form the past month and a half though and any extra pressure should not affect him.
Striker – Giroud
Olivier Giroud had an excellent game last weekend against Everton and then was a non-factor on Tuesday against Sheffield Wednesday. There was little he could have done on Tuesday considering he received absolutely no service.
However, because Arsenal does not have another healthy strikers, Giroud must perform at a consistently high level for the next week and a half.
(4-2-3-1)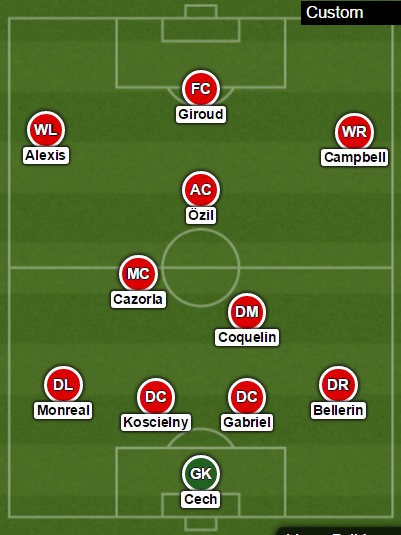 http://lineupbuilder.com/?sk=9s6d