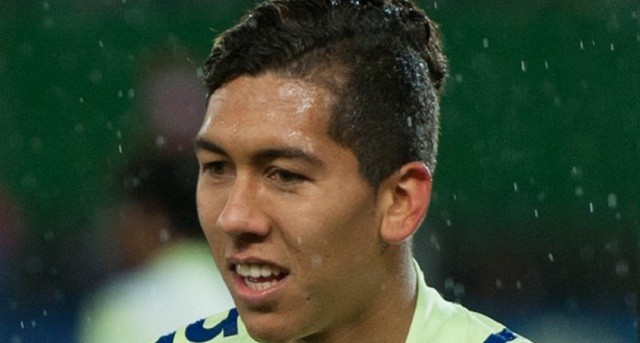 With a 1-0 victory over Bournemouth on Wednesday, Jurgen Klopp and Liverpool were able to claim their first victory in almost a month and the first victory under the new manager. They will be looking to build on that victory this weekend by defeating Premier League rivals Chelsea.
The London club is coming off two consecutive defeats and are surprising 15th in the league standings. Klopp does have a decent record against Mourinho from his time at Borussia Dortmund but he was working with a full strength squad that had been playing under him for a while. Klopp and his team cannot expect an easy match, Jose Mourinho may lose his job if Chelsea lose and he won't go down without a fight.
Goalkeeper
Simon Mignolet hasn't been bad this season but he has also been quite inconsistent. There are times where he has made some extraordinary saves but he has also not been able to organize his defense before opponent's set pieces. While that may be something that Klopp needs to fix, Mignolet still needs to galvanize his back line,
Right-Back
Nathaniel Clyne will return to the right side of the defense after playing at left-back on Wednesday. With Eden Hazard lining up across from him, this will be Clyne's biggest test of the year. If he can keep Hazard from taking over the match, it almost guarantees a Liverpool victory.
Center-Backs
Both Martin Skrtel and Mamadou Sakho played midweek against Bournemouth with Skrtel coming on for Kolo Toure after the veteran picked up a knock. They didn't have a lot to do a lot in that match so they should still have a lot of energy for this weekend.
They will be tasked with dealing with a Chelsea attack that is still dangerous even if the team has struggled this season. Diego Costa may not start this match which really help Skrtel and Sakho given his ability to get under his defender's skin. However, even if the physical striker isn't fit enough, Loic Remy and Radamel Falcao are still dangerous players.
Left-Back
Alberto Moreno was rested against Bournemouth but he will almost definitely return against Chelsea. Moreno played very well against Southampton and was a constant menace to their defense, he should be able to continue that against Chelsea since they haven't found a reliable right-back.
Defensive Midfield
Both Lucas Leiva and Emre Can should return to the lineup against Chelsea and they will be key in ensuring a Liverpool win. Both will need to contain Cesc Fabregas or whoever Mourinho starts in the no.10 role.
Also, if there is one thing neither of them should do, it is foul any Chelsea player anywhere in the Reds' own half. The team really struggles to defend set pieces but Willian is also one of the best in the league in scoring from free-kicks.
Attacking Midfield
James Milner should be back after serving his one game suspension. While he is not the most fearsome attacker Klopp has on the squad, Milner's intelligence and experience should help in what should be an emotionally charged match. However, his poor form in recent weeks could lead to Klopp choosing to start either Adam Lallana or Jordon Ibe instead.
Lallana is the more complete player and he is more willing to contribute defensively but Ibe is coming off a very good performance in the Bournemouth match and Klopp could see an opportunity to build on that momentum.
Given Roberto Firmino's excellent performance in the middle of the week in the no.10 role, he deserves another shot against the Blues. Nemanja Matic is no where near the player he was last season and that could lead to Firmino having another excellent game. If there is one match where Liverpool could use a rejuvenated Philippe Coutinho, it would be this match. The tiny magician hasn't been anywhere near his best over the last month of so, he has often looked tired and disconnected from the rest of his teammates.
Forward
It looks like Christian Benteke will be healthy for the match and he will be a much needed presence upfront since Divock Origi has not been able to make an impact when given minutes.
However, for Benteke to be effective, the team will need to increase the number of crosses they attempt, he is an elite aerial threat, the team needs to use him as such. The Chelsea defense hasn't been at its best this season and this match is Liverpool's best opportunity to put a few goals past Asmir Begovic.
(4-2-3-1)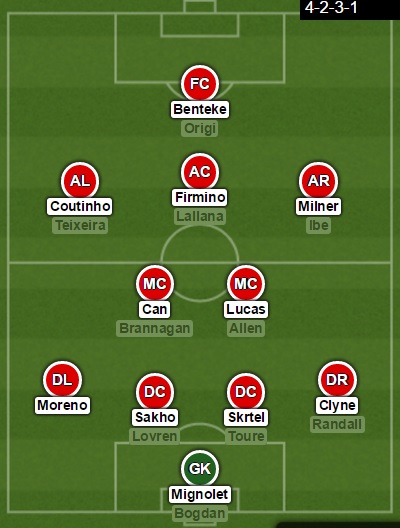 Via – Lineup Builder