Exactly a year ago, Chelsea were unbeaten in the Premiere League (1st in the league), Champions League (1st in their group), and the Capital One Cup (through to the Quarter Finals). However, things have changed and Chelsea has made a horrendous start to all of their ongoing campaigns, with them being currently 15th in the Premiere League, 3rd in their Champions League Group, and knocked out of the Capital One Cup.
Chelsea has endured its worst ever start in the Premiere League, and Jose Mourinho is experiencing the worst start in his entire career. The arrogant "Special One", brilliantly led Chelsea to the Premiere League and Capital One Championship in the previous season, but has had an extremely rough start in the current season.
This poor start to the season has made Roman Abramovich (Chelsea's owner) very unhappy, with some even claiming that he is slowly losing his patience over Mourinho. Mourinho hasn't still been sacked though, mostly because he is supported by most of Chelsea's fans and players.
However, Chelsea's game against Liverpool could be Mourinho's last chance to remain as the Blues' manager. So this is a must win game for Mourinho, and for this game he needs to make some risks and go out with an attacking team that could save his job!
Goalkeeper – Asmir Begovic
Begovic is a type of Goalkeeper who plays extremely well when the defenders have a good game alongside him, but when he has to protect the net with Chelsea's currently disjointed backline, it's then that he faces many problems. That is because he is not a goalkeeper who could make wonder-saves and clean up his defence's mess, but rather a good goalkeeper who also needs help from his defenders.
So although he is a safe pair of hands, he is nothing spectacular, but will surely start for Chelsea as they haven't got any other available world class goalkeeper (with Courtois being injured).
Right Back – Kurt Zouma
Even though Zouma is a Centre Back and not exactly the most reliable Right Back, his performance has still been better than Ivanovic. So it would make sense for Zouma to start in the Right Back position against Liverpool.
Central Defender – Gary Cahill
Cahill has done well in his most recent games and should start against Liverpool as he has gone back to being one of Chelsea's most reliable defensive options.
Central Defender – John Terry
Although John Terry isn't as incredible as he was in the previous season, he is still a great defender and easily one of Chelsea's most important players who should start against Liverpool.
Left Back – Cesar Azpilicueta
Azpilicueta is easily the best choice for the Left Back position and should start ahead of Baba, who has struggled to adjust.
Central Midfielder – John Obi Mikel
Mikel had a decent game against Stoke and could be a useful player to help out Chelsea's defence against Liverpool's quick attackers.
Central Midfielder – Ramires
Ramires has lacked focus in his last two games, with him having a hard time getting back and defending against West Ham, and also struggling to finish his golden chance against Stoke. But he is still the engine that Chelsea need in their midfield and could help the Blues against Liverpool with his blistering pace.
Right Winger – Willian
Willian is undeniably Chelsea's best player in the ongoing season. He is fast, clinical, and a set-piece specialist. So it's not too hard to see why he will most likely be one of the first names on Chelsea's team sheet.
Attacking Midfielder – Bertrand Traore
Traore, the Blues' 20-year-old star impressed Chelsea fans after playing for only 30 minutes against Stoke. Although he wasn't clinical, he made a few good opportunities for himself and he could've even scored if it wasn't for Butland's heroics. Traore is young, full of energy, incredibly fast, and noticeably different from Fabregas. And that is exactly what Chelsea needs: something different!
Left Winger – Eden Hazard
Eden Hazard's penalty miss summed up his form in the ongoing season: nothing seems to work! It was apparent that he was wholeheartedly striving to play like he used to, but he just couldn't. He has become the shadow of his former self who won the Premiere League and was named Premiere League's Player of the Season. And although Hazard doesn't deserve to start ahead of Pedro, he is lucky that the Spaniard is injured, which means that he would most likely start against Liverpool.
Striker – Loic Remy
Remy has not been given much playing time in the current season, with Mourinho choosing Costa and Falcao ahead of him. But he showed Mourinho that he should be playing, when he scored Chelsea's equaliser against Stoke in the 90th minute.
Now with Diego Costa injured, Remy should be given the chance (ahead of Falcao) to show that his goal against Stoke was not accidental and that he has the power to be a game changer.
(4-2-3-1)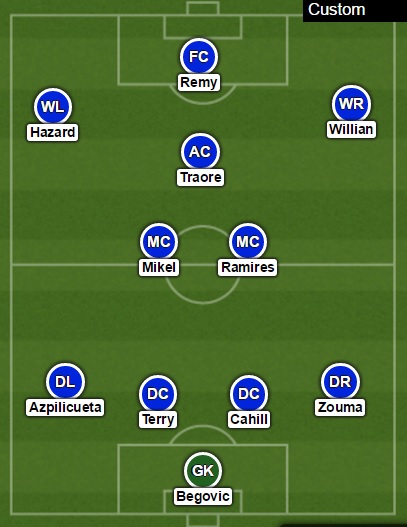 Via – Lineup Builder