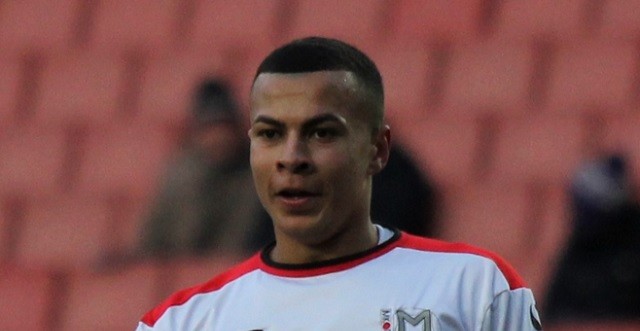 According to L'equipe, Paris Saint-Germain (PSG) sent their club sporting director, Olivier Letand, to watch the Tottenham-Anderlecht match last Thursday to scout our beloved, 19-year-old midfielder, Dele Alli.
After diving into research mode, and checking out his stats during his short time at White Hart Lane, I've come to one conclusion.
PSG can just bug right on off.
I'm fairly confident right now that Spurs' manager, Mauricio Pochettino, isn't losing any sleep at night over the rumor. Alli seems to have a strong head on his shoulders. We're one of the youngest, exciting teams in the Premier League right now, and the last time we lost a Premier League match…
The last time Spurs lost in the league carrier bags were free, Jeremy Corbyn was just a man with a dream and Luke Shaw still had a leg

— Billie (@Billie_T) October 25, 2015
Why leave all that?
Exactly my point. There is no reason. Alli's not going anywhere. Not this January's transfer window. Not next summer's transfer window. Not anytime soon. I think he'll be at Tottenham for awhile.
My reasons to believe that is because he's getting a ton of playing time right now with Spurs. Poch is one of those managers who puts faith in his young players who play the style of football he prefers, and he works to develop them. Alli does and is exactly that type of player. He's a great box-to-box midfielder who's capable of playing defense and stopping the oppositions' attack. He's also currently playing with a ton of confidence and he's making a huge impact.
Also and it's kind of irrelevant, but fun to mention, but he's been putting on a nutmeg clinic this season. He's recent two for England, his one against Anderlecht. Also his two against Real Madrid in the Audi Cup. He's fun and exciting to watch.
The return of Ryan Mason may have some people questioning Alli's spot in the starting eleven. Make no mistake though. That spot next to Eric Dier is Alli's and he's earned it. No question.
With Mason back though, Alli will be able to rest some games, depending on the matchup. Getting some of our midfielders back from injury just means more depth at the position. This will be crucial with the amount of games Spurs have coming up in November. 
Alli's been given a chance here at Tottenham and he's definitely making the most of it. PSG can make an enquiry for the youngster but I think there's absolutely no way Levy can sell him. Alli is here to stay at White Hart Lane, and I believe he's going to be a star.