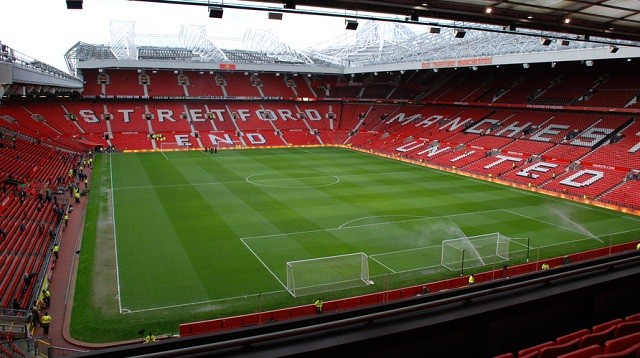 Manchester United will host Middlesbrough in the Football League Cup Round of 16 Wednesday at Old Trafford.
The Red Devils last won the title during the 2009-2010 season, where they defeated Aston Villa 2-1. Although not as prestigious as other competitions, Louis van Gaal's men will certainly look to have a good showing, especially since their trophy case has not been filled the past few seasons.
With another Premier League match this weekend and the return leg of Champions League, van Gaal will certainly looked to rotate the squad, and will hopefully not have to answer questions about Wayne Rooney.
Youngster, Andreas Pereira, may find himself in the starting 11 as he had featured the last time United played in this cup. James Wilson, who has been battling a calf injury may not feature once again.
Here is Manchester United's probable starting lineup against Middlesbrough F.C.
Goalkeeper- David de Gea
De Gea featured during the last League Cup match a few weeks back, and will most likely feature once again. He had a quiet afternoon on Sunday against Manchester City, rarely being tested.
Right Back- Matteo Darmian
Antonio Valencia received the start in the Manchester Derby, but picked up an injury, so the Italian will look to feature on the right side. After Darmian featured the majority of matches at the start of the season, there seems to be a healthy competition now.
Center Backs- Chris Smalling & Phil Jones
Smalling and Jones will most likely start once again, as a few injuries to other defensive players, most noticeably, Paddy McNair and Ashley Young, will force the English duo to feature.
Jones was impressive once again, as he and Smalling helped de Gea in his clean sheet against a depleted Manchester City. Smalling had a chance to put United up late with a tap in, but Joe Hart kept the defender out.
After much speculation of signing the likes of Mats Hummels and Sergio Ramos, van Gaal may opt to strengthen the squad elsewhere.
Left Back- Daley Blind
Left back is most likely the one spot where van Gaal will look to rotate, as Blind has not featured since International break.
Making way will be Marcos Rojo, who looked very impressive this past weekend. Blind started the season very well as a makeshift center back with Smalling, however, with Jones and Rojo both playing well, it has been hard for the Dutchman to crack the starting 11.
Defensive Mid- Bastian Schweinsteiger
Michael Carrick may be an option here, but with some inexperienced players that have not featured that much, Schweinsteiger will be a good option to have, since he has been in fine form. If Carrick does not start, look for the vice-captain to come on in the second half to replace the German.
Central Mid- Ander Herrera
Herrera, who has been playing the number 10, will most likely drop back and let others feature up front.
He has been in fine form in recent weeks, however, he was very quiet and cautious for most of the City match. The Spaniard is known for his work rate and defensive duties as well, so he'll be linking play between the back and the attacking forwards.
Attacking Mid- Wayne Rooney
Wayne Rooney has been featured in the striker's role the last few matches, and has not impressed, so van Gaal may try him back in the attacking mid role this Wednesday. It's not all doom and gloom for the United captain, as he was recently granted a testimonial match next summer. He'll look to get back on the mark against the lowly Middlesbrough, hopefully scoring or making a key pass to boost his confidence.
Wide Right- Juan Mata
Juan Mata has been in fine form for much the season, but has continued to be shifted out of his preferred number 10 role by either Herrera or Rooney. Mata, a true professional, will find himself on the right side of the attack this time once again.
Wide Left- Andreas Pereira
With Memphis Depay out of van Gaal's mind at the moment and Pereira featuring last time during this competition, the young Brazilian will see time once again. Pereira found himself on the score sheet during the win over Ipswich Town, which was his first goal as a first team member for United.
Striker- Marouane Fellaini
Although he did not score, Anthony Martial put in another positive display in the Manchester Derby, and should be rested. Fellaini will be a great target man to have in this type of match, where he can use his height and chest to bring down balls and hopefully play them into the likes of Rooney and Pereira.
(4-2-3-1)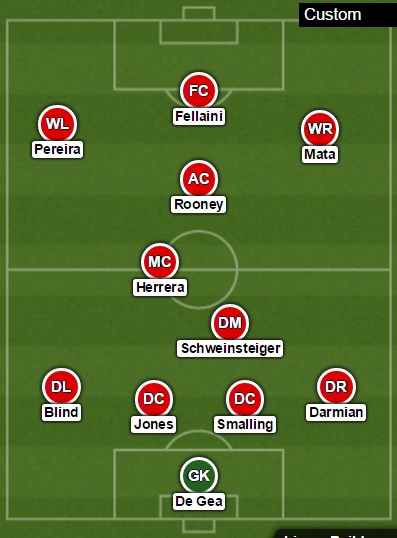 Via – Lineup Builder