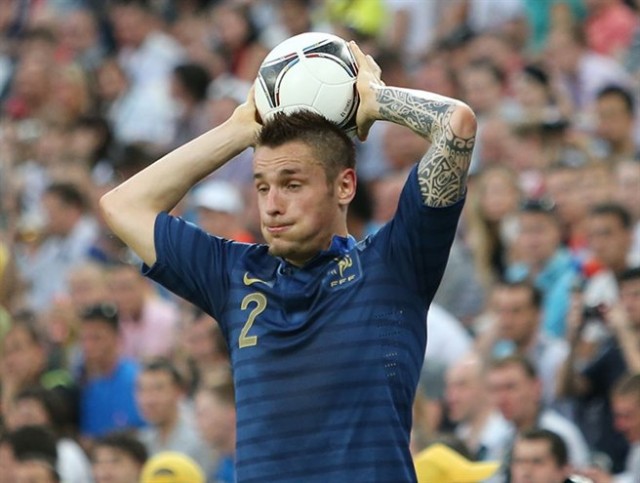 Arsenal face Sheffield Wednesday on Tuesday at Hillsborough in the fourth round of the Capital One Cup.
Arsenal beat Sheffield Wednesday in the League Cup final (what was then known as the Capital One Cup) in 1993, which is also the last time the Gunners won the competition.
Arsene Wenger will rotate his squad, although his options may be limited due to long-term injuries to Danny Welbeck, Tomas Rosicky, and Jack Wilshere, as well as injuries to Aaron Ramsey and David Ospina. There is also uncertainty surrounding the availability of Mikel Arteta who sustained an ankle injury on Thursday and missed Arsenal's 2-1 win against Everton on Saturday.
Youngster Alex Iwobi will at the very least feature on the bench along with Chris Willock and Krystian Bielik. But exciting youngster Jeff Reine-Adelaide will miss out due to his participation with France in the U-17 World Cup. 21-year old Matt Macey will make his senior debut for the club in goal.
Here is Arsenal's probable starting lineup against Sheffield Wednesday.
 Goalkeeper – Macey
With Ospina out with a shoulder injury until the end of November, Macey will get his first start for the club. Macey is an intimidating presence in goal and stands at 6' 7" tall.
Right Back – Debuchy
Mathieu Debuchy will get a rare start, allowing for Hector Bellerin to get a well-deserved rest after an impressive showing in Arsenal's last four matches.
Debuchy has failed to impress this year and Tuesday will be another opportunity for him to prove his merit.
Center Backs – Gabriel & Chambers
Gabriel started on Saturday against Everton, but because he did not feature against Bayern Munich or Watford last week, he will be granted another start, allowing for Laurent Koscielny and Per Mertesacker to rest.
Gabriel put in a good shift on Saturday. He made an excellent last-ditch tackle to deny Romelu Lukaku a shot at goal towards the end of the match. He was unlucky to have a Ross Barkley shot deflect off of him and past Petr Cech.
Calum Chambers will start and look to build on a string of consist performances. He has shown improvements in every match that he has played in this year and Wenger will look for Chambers to continue his growth.
Left Back – Gibbs
Kieran Gibbs had a 10-minute cameo on Saturday against Everton when Arsenal was trying to close the match out.
Gibbs will come into the squad in place of the impressive Nacho Monreal. Gibbs has played well when granted starting minutes this year and Tuesday will be an opportunity to put a little pressure on Monreal.
Defensive Mid – Coquelin
If Arteta is healthy, Mathieu Flamini will drop into the defensive mid role and Francis Coquelin will find a place on the bench. Right now though, it does not seem like Arteta will feature, and although Coquelin deserves a rest, he may have to start considering the multiple injuries Arsenal is experience to their central midfield department.
Central Mid – Flamini
The hero of the third round win against Tottenham and the scorer of two excellent goals in that match, Flamini will get his second start since the last time Arsenal played in the Capital One Cup.
The Frenchman came on late in the game against Everton, but played in more attacking role. It seems like he was placed forward in an effort to pin Everton into their own half, but instead Flamini almost scored twice.
Attacking Mid – Oxlade-Chamberlain
Alex Oxlade-Chamberlain started on the right of midfield on Saturday in place of the injury Ramsey. He had difficulty making his presence felt for the most of the match, but grew into the game during the second half. He seemed to alter his a game a bit in the second half by becoming more of a creative source rather than a speedster down the wing.
Wenger has always spoken of his belief that the Ox can be an excellent central midfielder, and considering that Wenger will want to grant Mesut Özil and Santi Cazorla a rest on Tuesday, the manager will move his young English midfielder to a central role.
Wide Right – Walcott
Theo Walcott did not feature on Saturday and was replaced by Olivier Giroud in the starting eleven. Both Walcott and Giroud have seemed to hit a patch of good form and Wenger will have some tough choices to make in the next couple of matches.
Alexis will not start on Tuesday, which will force Wenger to play Walcott on the right of midfield. In reality, Walcott will play more as an inside forward next to Giroud.
If Welbeck, Wilshere, or Rosicky were healthy either three of them would likely have started this match on the right.
Wide Left – Campbell
Joel Campbell has been a peripheral member of the squad for much of the season. He has only played a handful of minutes off the bench and has one start under his belt this season, which came the last time Arsenal played in the Capital One Cup.
Campbell will want to show that he can have an impact on the squad considering Arsenal's limited options down the flank right now. We have been down this road before though and Campbell has failed to prove his worth then.
Nevertheless, the Costa Rican international always puts in an energetic performance and his commitment can never be questioned.
Striker – Giroud
Giroud put in an impressive performance on Saturday and opened the scoring for Arsenal. He had been playing well coming off the bench and after an excellent second half showing against Bayern Munich on Tuesday Wenger granted Giroud his first start in the league since August.
Considering that Giroud has barely started a match since August, he should have no problem starting two matches within three days of each other.
(4-2-3-1)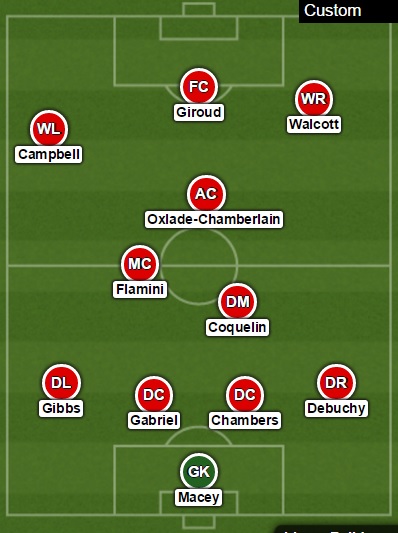 http://lineupbuilder.com/?sk=995p