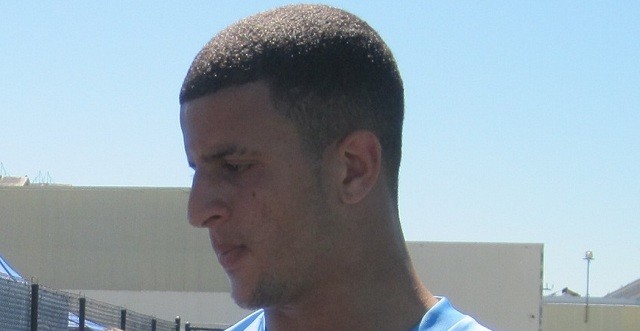 The January transfer window is only a few months away and already Tottenham are linked to be lining up bids for a few players. Thorgan Hazard from Borussia Mönchengladbach, and Sandro Ramirez from Barcelona are a just a couple of them.
But maybe Spurs should be selling also? Maybe they should be selling Kyle Walker.
For the past four seasons, English right-back Walker, has been the automatic first choice for that right-back position in Tottenham's lineup. Known for his blistering pace, Walker has the ability to get up in the attack on the right side and to open up play. However injuries have recently plagued the 25-year-old's career.
Recovery from abdominal surgery, and then sustaining a foot injury during the final stretch of the 2014-2015 campaign caused Walker to miss most of last season. Before that he was suffering from a pelvic injury earlier that year in 2014.
The inconsistency at the right-back position really hurt Spurs last season. With Walker being so injury prone, maybe it's time to look for more consistency at the position? It's been known that Spurs' chairman, Daniel Levy, has no problem parting ways with their star players. Luka Modrić, Gareth Bale, even Benoît Assou-Ekotto was quality. Should they decide to sell Walker, the Lilywhites have players who a capable of filling his boots.
Summer signing Kieran Trippier, from Burnley, was signed with the mindset of being a first-team player. Right now Walker and him are enjoying good competition for that first-team role. However Trippier has failed to play in a Premier League game this season. He's only played for Spurs during their Europa League matches.
Tottenham were able to get the Englishman from Burnley for only £3.5 million this summer. Trippier played a pivotal role for the Clartets' team, as he excelled for a struggling Burnley side last season. According to whoscored.com, he's collected 18 assists the past two seasons. That's more than Branislav Ivanovíc, Pablo Zabelata, Matteo Darmian, and Kyle Walker.
Trippier's crosses are his most valuable asset. He's known to get great curve and a tremendous amount of pace on the ball. This could pair well with Spurs' striker Harry Kane's ability to make smart runs through the opposition's defense. The two could become quite a pairing in the future.
https://www.youtube.com/watch?v=jVFuBdtskhU
Spurs also signed United States international Deandre Yedlin this past year from the Seattle Sounders, after a good showing in the 2014 World Cup. The 22-year-old is currently on loan to Sunderland.
Trippier and Yedlin are still raw but both are capable of being Spurs' new every-day right-back. With Nathaniel Clyne moving from Southampton to Liverpool, Walker would almost more than likely draw a good return now being the most sought after right-back from the Premier League.
According to transfermarkt.com he's valued at £13 million.  Levy could get a good return from selling Walker. The return could be used to go out and get those players they're looking at in the January transfer window. Trippier can fill in for Walker as the everyday right-back, and if need be, Toby Alderweireld can shift over and play right-back from time-to-time. That's where he plays for his country, Belgium.
If they don't part ways with Walker in the winter, with Yedlin returning from loan, Levy will probably shop him around in the summer again. It's time to face the facts, Walker's days at Tottenham could be numbered.