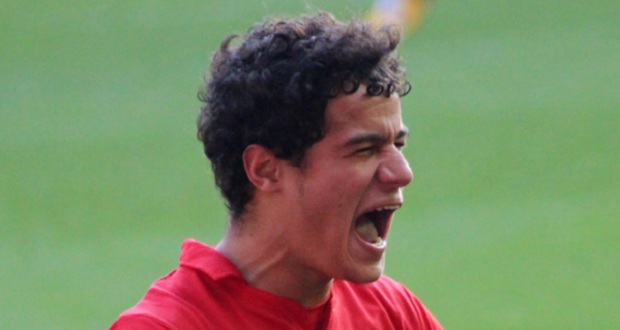 In his third attempt as manager of Liverpool Football Club, Jurgen Klopp failed to come away with his first win.  On a day when Liverpool looked to be the stronger side at Anfield against Southampton, they were lacking the finishing product in the final third.
Liverpool took the lead in the 77th minute following a bullet-header from Christian Benteke, but it lasted a mere 9 minutes, as Southampton answered following a set piece in the 86th.  Here's a look at the player ratings following Liverpool's third straight draw in as many matches:
Simon Mignolet – 6
The Belgian keeper wasn't tested a whole lot by Southampton.  Cannot be at fault for Mane's goal as the ball in should have been won by the Liverpool defense during the set piece.  A great header back across/behind Mignolet to put him on his back foot.  Decent distribution from the keeper.
Alberto Moreno – 6.5
The only thing holding Moreno back from a better rating was his complete lack of finesse in his few attempts at goal.  Was a real threat with incredible pace down the left side, but skied two golden opportunities and blasted another across the face of the goal.  Made an incredible tackle to stop a breakaway.
Mamadou Sakho – 5
Following a superb performance against Rubin Kazan, his performance was lacking against the Southampton side.  A few poor balls out of the back and a couple glancing headers summed up his night.  Lucky that his mistakes did not cause more damage.
Martin Skrtel – 6
Looked the stronger of the two Liverpool center backs although he wasn't asked to do a whole lot of distribution from the back.  Powerful in the air, kept Mane in check for most of the game.
Nathaniel Clyne – 5
Didn't offer much going forward but put in a hard working shift defensively.  Would hope for more from Clyne down the flanks as the outside backs offer the only width in Klopp's formation.
Lucas – 7
Defensively, appeared to be Liverpool's best player on the pitch, making vital interceptions and tackles left and right.  Offensively, looked calm on the ball and kept possession well, nothing more, nothing less.
Emre Can – 6
Incredible talent, but extremely inconsistent.  Made several long, powerful runs, driving into the Southampton midfield/defense but seems to run out of ideas in the final third, sometimes lacking creativity and a final product.  Appears as though he will excel under Klopp.
James Milner – 5
Worked extremely hard as usual but didn't offer a lot on either end of the pitch.  Picked up his 5th yellow of the season and will see a one game suspension.
Divock Origi (Benteke 45′) – 4
Deserved to come off at halftime.  Must mature and learn how to hold the ball as the lone striker in this formation.  Origi might fit better in a two striker system.
Philippe Coutinho (Ibe 83′) – 4
Nonexistent.  Klopp must find a way to get the Little Magician more involved.  It appears that Liverpool's form often mirrors that of Coutinho.  Very important player going forward for Liverpool.
Adam Lallana (Firmino 67′) – 6
Another solid outing for Lallana under Klopp.  Some nice flicks and tricks and a couple very clever runs but he needs to produce an end product if he wants to stay anchored in the starting XI as other players return from injury.
Christian Benteke (45′) – 7
Scored a screamer off his head in the 77th.  Makes you wonder why Liverpool doesn't play more crosses to the Belgian.  Seemed to breathe life into Liverpool in the early minutes of the second half.  He's built for a one striker system.  Expect him to be in the starting XI next outing.
Roberto Firmino (67′) – 6
Shows more promise every fixture.  Beginning to find his footing in English Football.  PLEASE, enough of the short corners.
Jordon Ibe (83′) – 6
Not enough touches to make a major impact but showed good pace and skill to win a corner in the late minutes following a blazing run down the left side.
Jurgen Klopp
He can't be blamed for not naming Benteke to the starting XI despite complaints from fans.  Liverpool is plagued by injuries to their attackers and they must be reintroduced slowly or the injuries won't go away.  Set pieces seem to be an issue thus far for Klopp both defensively and offensively.  Will look to find his first win in their next fixture against Bournemouth in the Capital One Cup.