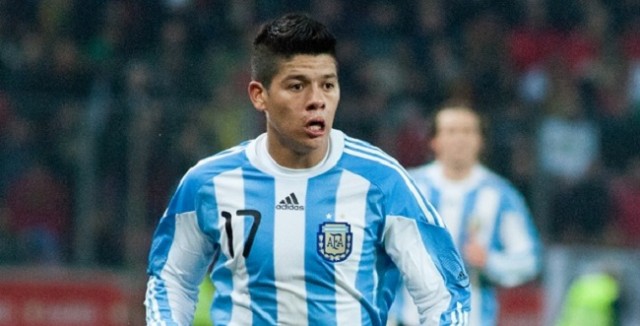 Manchester United squared off with their cross town rivals, Manchester City in their battle for the top of the table. City severely missed David Silva and Sergio Agüero as the middle of the field looked empty. In their absence, Manuel Pellegrini was looking to run his offense through the in-form Kevin De Bruyne. 
Chances were few and far between throughout the scoreless draw, but it was not without a few of standout performances. Either player in the new center-half unit of Phil Jones and Chris Smalling were worthy, but because of the task Marcos Rojo faced, he was United's top performer.
There was plenty to be skeptical about with Rojo at left back in his first two matches at the position. He seemed to lack the speed when dealing with some of the world's best wingers and played tentatively when moving up the pitch.
Today he was saddled against Kevin De Bruyne who has been spectacular on the right side for the boys in sky blue. In his toughest test yet, Rojo was spectacular.
De Bruyne was made to be non-factor almost all game resulting in a lackluster City attack. Rojo played with bite making 7 successful tackles (most for either team). He won 3 aerial duels (whoscored.com) and also made an offensive impact that could help him solidify a starting position (until Shaw's return). His crosses looked very dangerous as they had a vicious whip and precision.
One of the biggest questions coming into this season was whether the Devil's had enough defensive depth and capability to sustain success. Luke Shaw's injury knocked United, but they have recovered. Smalling and Jones look capable of becoming United's next great english duo and Matteo Darmian, Marcos Rojo, Antonio Valencia and Daley Blind are all viable defensive options.
United's starting back-four looks to be Rojo, Smalling, Jones, and Darmian. The young unit brings a physicality well beyond their years, but the questions still remain. Are they quick enough to hold off Europe's finest? Are they offensively gifted enough to join the play? Are they tall enough to ensure set-piece security?
Manchester United have just finished their first difficult stretch of the season going 1-1-1 against Arsenal, Everton, and Manchester City. Now is the time grow chemistry within the unit so that the transitions from defense to offense become more organic across the pitch.
United's next big EPL test is more than a month away against the 3rd place Hammers of West Ham, but they face off next against Middlesbrough in the Capital One Cup.