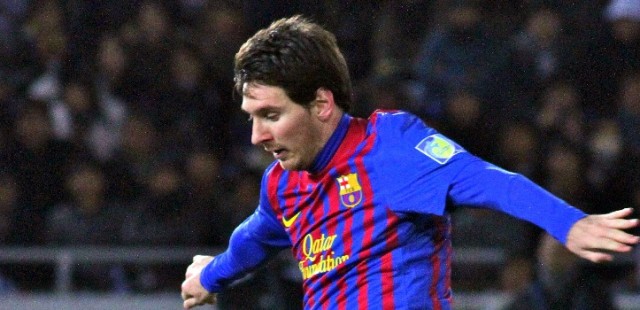 The injured Argentine has been contacted by Chelsea and both Manchester City and Manchester United towards a possible Premier League move, according to The Sun.
Lionel Messi has revolutionized football during his, now, 14 years with FC Barcelona. 4 Champions League titles, 7 La Liga titles, 3 Copa Del Reys, 6 Spanish Super Cups, 2 FIFA Club World Cups, A Olympic Gold Medal with Argentina, 4 with a possible 5th Balon D'Or on the way is just a few notable titles to his name. But recent contact to his represenatives by EPL teams last week to his representatives hint that he might fancy some playing time in England.
To accompany it, Premier League friends of the superstar have reportedly also contacted him, favoring the move. The rumors are spreading like wildfire with evidence to suggest we possibly CAN see him in the EPL.
The first piece of evidence: Huge dollar signs. It's no surprise that the Premier League would love to see Messi play. With huge television deals for the league, they could generate tons of revenue with Messi at a English club. Without him, they already makes millions and are set to cross into the billion mark by the next few seasons.
Messi's recent million-euro tax fraud allegations has affected him and his father, which is possibly putting him off towards staying in Spain. This isn't old news with Barcelona. The club is not only dealing with the same allegations with Neymar and Javier Mascherano, but also with investigations over the financial aspects of Neymar's transfer from Santos. His FC Barcelona contract expires in 2019 and the club is ready to extend it whenever he is but I feel his persecutions could be a big factor.
He, on the other hand, is nonplussed at the idea of moving anywhere soon. He briefly explains how his focus is to recover in no rush and to live in the moment in this interview with Guillem Balague for Yahoo! published yesterday.
I believe he truly will make a move away from Spain, but absolutely not now. Barcelona still have his contract and are willing to go into debt to keep Barcelona's greatest striker happy at the club for a few more years.
He seems determined as ever in staying put and just as mercurial as he was under Pep Guardiola. But even the greats who stay loyal to their club crave the experience of playing elsewhere. The Catalans' own Xavi and former Real Madrid keeper Iker Casillas are great recent example, who both left after years of incredible service to their clubs.
I can absolutely see someone like little Leo traveling abroad to discover what the football world is willing to give to him. EPL? MLS? Chinese League? Wherever it might be, however his career ends, it will always be a spectacle to watch him.