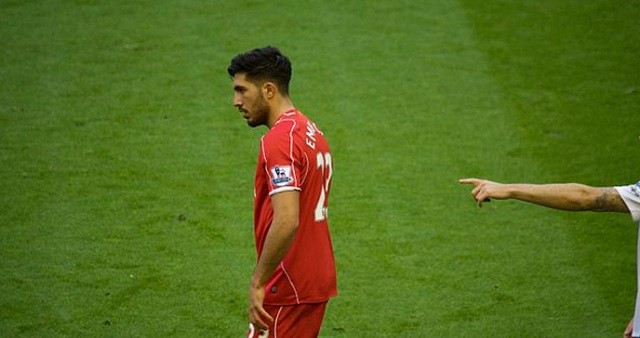 The Reds managed a 1-1 result on Thursday night against Rubin Kazan in the Europa League.
Liverpool were consistent throughout the match with lots of chances and long stints of possession, with 35 shots and 73% possession. However, they still could not get the winning goal against Kazan, who had to defend most of the match after being reduced to 10 men in the 36'.
Emre Can scored his first goal for Liverpool this season in the 37'. Can was the by far the best Liverpool player on the pitch, and he seems to fit best in Jurgen Klopp's high pressing and physical tactical philosophy. His tackles in recovery on defense and his persistence to attack increased his chances of becoming a mainstay in Liverpool's starting lineup.
Klopp made one change from the weekend's match against Tottenham, inserting Joe Allen in the defensive midfield role for Lucas Leiva, who played a huge role in the goalless draw against Tottenham. Allen did well in the midfield, but failed to consistently help the back four and defend, which inhibited Can from playing his style of soccer.
When Lucas was swapped for Allen at half time, Can was given more freedom to move around the pitch and help in the attacking third, which is where he has been most dangerous this season.
Many would say that this result is no different from when Rodgers was in charge. A typical 1-1 draw where Liverpool failed to break down the weaker side was the story for the Reds early on in the season under Rodgers. This game was different, however. The players played with passion and dedication all over the pitch. There is no question that Klopp has instilled hope into the players and the the Reds supporters.
The intensity of the supporters was the pinnacle of the entire match. Many Europa League matches tend to lack good attendance and a passionate atmosphere, in contrary to a domestic league match. However, the supporters for this game were in full voice and gave their team hopeful encouragement.
The Reds play Southampton this Sunday, which will be a very intense and high pressure match as both teams like to press high defensively and have good organization.
Jurgen Klopp offered his thoughts about the Rubin Kazan match, and analysis of his opponent on Sunday, Southampton.
"There were many good things, but of course if you see the whole game, at the end you feel 'here you could have done better'. That's the truth, of course, but that's football. It's always the same."
"I watched Southampton game against Chelsea. They have good organization and try to press high with 6 players."
"I saw lots of good things [against Rubin Kazan]. It's one more experience and the next game is waiting."