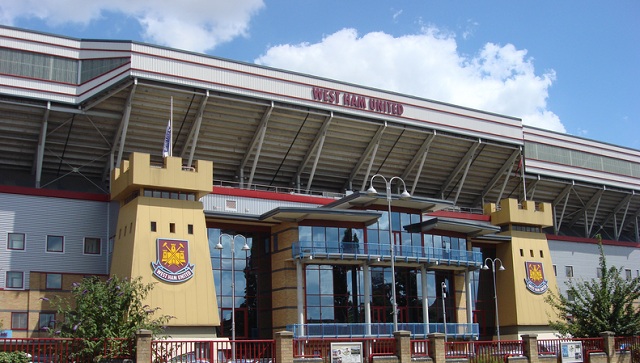 While many predicted that Chelsea would win the Premiere League for the second time in a row, the Blues have started their BPL campaign in a disastrous fashion, and aren't doing too well in the Champions League's group stages either!
And while many have lost their faith in Chelsea for this remaining season, Jose Mourinho has the best chance to prove that his team is still a big threat by winning against West Ham who has been very successful against Premiere League giants (Manchester City, Liverpool, and Arsenal) in the ongoing season.
Goalkeeper – Asmir Begovic
A pair of safe hands for Chelsea, but nothing spectacular. It's very obvious that Begovic will be one of the first names on Chelsea's team sheet, as the Blues don't have any other world class goalkeeper at the moment (with Thibaut Courtois injured until December). And although he is nowhere near Courtois's quality, he is still a decent keeper who could get the job done if he gets the right support from his fellow defenders.
Right Back – Kurt Zouma
In the previous season, Chelsea fans loved Branislav Ivanovic, who scored many important goals and played a major part in Chelsea' success.
Things changed, however, as Ivanovic became the main player to blame for most of Chelsea's losses in the current season, to a point that the Blues aren't really sad about him being injured! The best player to replace the injured Ivanovic in the Right Back position would be Kurt Zouma who proved to be a decent fullback as well as a great centre back against Dynamo Kyiv.
Central Defender – Gary Cahill
With a good display against Dynamo Kyiv, full of great interceptions and decent challenges, Gary Cahill showed that he has recovered from his bad form against Southampton and that he should start against West Ham.
Central Defender – John Terry
Captain John Terry's display against Dynamo Kyiv was a small glimpse of the brilliant John Terry that held the Premiere League's cup above his head. He took Kravets (Dynamo Kyiv's striker) out of the game by marking him perfectly and supported Begovic in many scenes. And although he isn't completely back in form, he should start against West Ham as he is still a great defender.
Left Back – Cesar Azpilicueta
He was easily Chelsea's best player against Dynamo Kyiv and felt comfortable back in his favorite position. He gave Dynamo's wingers a very hard time and frustrated them by his perfect marking and incredible pressing. He is an obvious choice to start and will most likely be one of the first names on Chelsea's team sheet against West Ham.
Central Midfielder – Nemanja Matić
Although his performances in the ongoing Premiere League season weren't too good, he shone bright in Chelsea's game against Dynamo Kyiv and was one of Chelsea's best players on the pitch. He defended his line extremely well and was a dominant force in attack.
Central Midfielder – Ramires
A complete workhorse in the heart of the midfield, he was extremely dominant in defense but disappointing in attack. Most of his passes did not connect and some bad decisions from him slowed down Chelsea's counter attacks. But even though he didn't perform too well against Dynamo Kyiv, he is still Chelsea's engine in the midfield and will most likely start against West Ham.
Right Midfielder – Willian
Undoubtedly, Willian has been Chelsea's best player in their ongoing campaign. He has played well in the league, in the champions league, and for his national team. He even played well in Chelsea's 0-0 draw against Dynamo Kyiv, with him hitting the crossbar from the freekick position. He has been incredible and will surely start against West Ham.
Attacking Midfielder – Cesc Fabregas
Fabregas has been one of Chelsea's most dissapointing players in the ongoing season. He played a major part in Chelsea's Premiere League championship in the previous season, but has started the current season in a horrible form. He has completely lost his magic, and even though he had a decent display against Dynamo Kyiv, he is still nothing like the Fabregas that made a goalscoring opportunity with his every pass. The game against West Ham could be one of his best chances to show that his performance against Dynamo wasn't accidental, and that he is slowly but surely, going back to his ideal form.
Left Midfielder – Pedro
Although there is a lot of pressure on Jose Mourinho to use Eden Hazard from both the fans and the media which are suggesting that he might leave Chelsea as he is not content, Pedro should still start ahead of him as he is a more balanced midfielder in both defensive and offensive areas.
Striker – Diego Costa
Diego Costa didn't have a great game against Dynamo Kyiv and struggled to get away form Yeven Khacherdi (Dynamo Kyiv's Central Defender) who was heavily marking him. But he is still undeniably the best striker that Chelsea have got and should start against West Ham.
(4-4-1-1)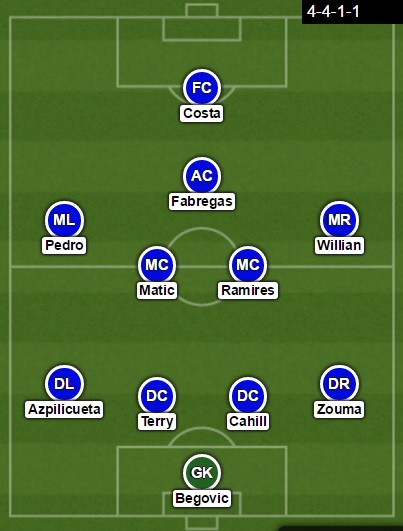 Via – Lineup Builder