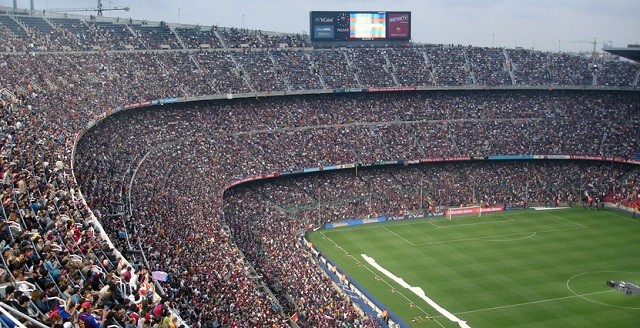 FC Barcelona face Eibar to further their climb up the La Liga table to beat out Celta de Vigo and Real Madrid in their way, who both happen to be undefeated in the league so far.
Injury has swept the first team dramatically. FCB's medical team reports that Sergi Roberto has been ruled with a groin strain and will be out for 8-10 days following his appearance against BATE Borisov in the Champions League. Barça now have to look for options for a solid eleven against Eibar, confident playing against the reduced Catalans.
Defense
Barcelona's main La Liga keeper is Claudio Bravo.
Jordi Alba has maintained his LB role in these last few matches but, given the lack of midfielders, we can see him fill up the missing spot and give the LB role to Marc Bartra, Jeremy Mathieu or Adriano.
I predict Gerard Piqué and Mathieu as the center-back pair. Javier Mascherano and Thomas Vermaelan can be good additions from the bench.
Dani Alves is the right-back. Bartra could also play well here.
Midfield
Ivan Rakitic became the sharpshooter at Belarus in their 2-0 win over BATE Borisov and will be bringing that confidence home. Sergio Busquets also played well and is playing next to him.
As for who will fill up the missing midfielder spot, I imagine Munir El Haddadi or another Barça B talent.
Offense
Neymar and Luis Suárez are definitely in. If my prediction is correct in saying Sandro Ramìrez will play this time, then we can see a still decent starting eleven with additional attacking players that will hopefully press their opponents from all areas.
Eibar is not a team to be taken lightly, says Luis Enrique. They have the hunger to stay in the top division after arriving for the first time in their history back in 2014.
(4-3-3)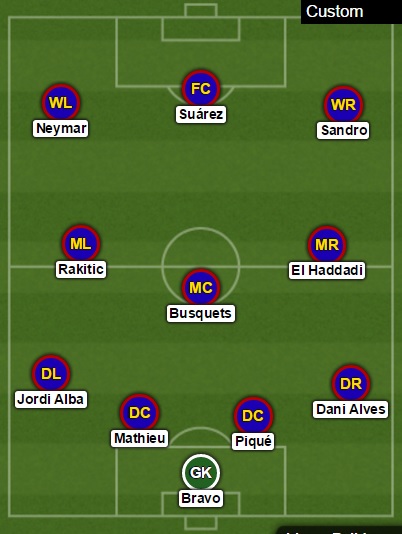 Via – Lineup Builder