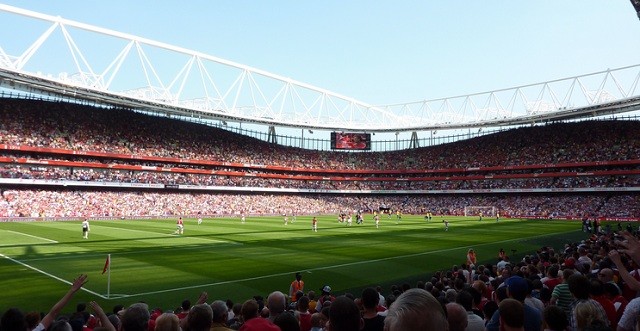 Arsenal returns to action in the Premier League on Saturday at home against Everton.
Arsenal is coming off a physically and emotionally draining victory against Bayern Munich on Tuesday and Arsene Wenger will likely introduce a few fresh faces to the squad.
We know that Aaron Ramsey will definitely miss out due to a hamstring injury he suffered in the 57th minute on Tuesday. Wenger hopes that Ramsey will be able to return after the international break in November, but that seems to be the optimistic timeline.
Alexis is another player that may sit out on Saturday. Wenger described Alexis as "jaded" after Tuesday's match. The Chilean has incredible recovery time and will likely push the manager to start him against Everton. Wenger will likely make a game time decision regarding the clubs top scorer this season.
Olivier Giroud may get a start in the Premier League for the first time since August 24th when Arsenal played Liverpool. The French international came off the bench on Tuesday to score an important goal. His hold up play was significantly improved from the months past and he made a real difference on Tuesday, besides his goal.
Arsenal play Sheffield United on Wednesday in Carling Cup meaning we may see youngster Alex Iwobi feature on the bench on Saturday. Considering Arsenal's lack of attacking options due to injuries up front, Wenger may try and integrate Iwobi into the first team in case he is needed in the coming weeks.
Here is Arsenal's probable starting lineup on Saturday.
Goalkeeper – Cech
Petr Cech showed exactly why Wenger spent £10 million on a 33-year old keeper. Cech pulled off a number of world-class saves against Bayern on Tuesday.
He has been a real calming presence in the squad the past few months and its clear that the back four is playing with a lot of confidence thanks to the knowledge that the Czech international is between the sticks.
In other goalkeeping news, Wenger revealed that David Ospina suffered a shoulder injury and will not be available until after the upcoming international break.
Right Back – Bellerin
Douglas Costa gave Hector Bellerin a torrid time on a few occasions but he didn't let the occasion get to him and he ended up putting in a stellar shift at right back.
He was alert to intercept the ball in midfield and set up Mesut Özil for Arsenal's second goal in the 94th minute on Tuesday.
Center Backs – Mertesacker & Koscielny
Both Per Mertesacker and Laurent Koscielny did an excellent job of organizing Arsenal's back four and keep Robert Lewandowski at bay. The most in-form striker in the world was held to a few shots from outside the box for the most part.
Twice the Polish striker got away and only once was he able to force Cech into a stunning save. The second time, Koscielny showed brilliant recovery ability to prevent the Polish international from getting a shot off.
Wenger will stick Arsenal's most successful center back partnership on Saturday.
Left Back – Monreal
Nacho Monreal did well to keep Thomas Müller contained and showed excellent defensive awareness throughout the match. Monreal has his deficiencies but he is aware of them and knows how to hide them.
Defensive Mid – Coquelin
Francis Coquelin was not as disruptive on Tuesday as you would normally see in the Premier League but that was down to the way Bayern played.
Coquelin showed fantastic positioning awareness and was in constant communication with his fellow midfielders and the back four behind him. When he did make a key tackle or interception he looked to play the ball forward immediately in an attempt to catch Bayern on the break.
Coquelin will back to his marauding self on Tuesday.
Center Mid – Cazorla
Santi Cazorla continued his excellent form since the international break. He might not be the best defensive player in terms of tackling and interceptions, but he has a great way of reading the game, making a nuisance of himself, and getting himself out of trouble.
Cazorla and Özil both played essential roles in getting Arsenal into counter attacks and constantly provided themselves as an option to Coquelin.
Cazorla will look to continue his good form against a tough Everton side.
Attacking Mid – Özil
Özil was the scorer of Arsenal's second goal. He has been in excellent form for Arsenal in their past three games and will look to carry his form over against an Everton side who like to quickly close down their opposition and catch them on the break.
Wide Right – Oxlade-Chamberlain
Alex Oxlade-Chamberlain replaced Ramsey and he is the most natural replacement for the Welshman on the right wing.
Ramsey's injury represents Oxlade-Chamberlain the opportunity to find consistency, form, and confidence. Hopefully once Ramsey returns, Wenger will have a difficult decision to make between the two.
Wide Left – Alexis
In the end, Alexis will convince Wenger that he is healthy and fit enough to play on Saturday despite the fact that this will be the Chilean's fifth match in two weeks.
The fact that Alexis is unlikely to face Sheffield United on Wednesday, giving him a week off in between matches will, likely play a factor in Wenger's decision as well.
Striker – Walcott
Theo Walcott will continue to start despite Giroud's impact on Tuesday. Walcott has continued to play well even though he hasn't scored for a few matches now.
Giroud is coming off the bench and playing well when he does. The Frenchman has scored four goals off the bench so far this season and Wenger will not want to tinker too much with a winning formula.
A speedy front three of Walcott, Oxlade-Chamberlain, and Alexis will be fun to watch.
(4-5-1)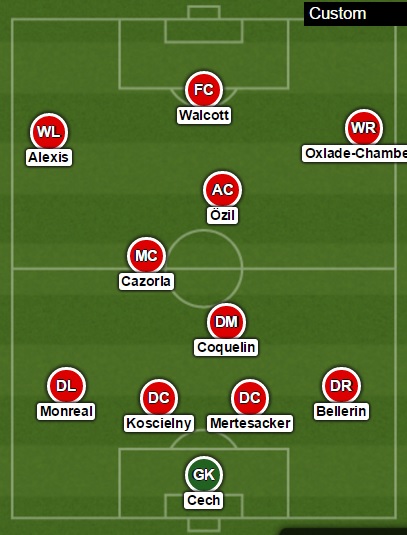 Via – Lineup Builder