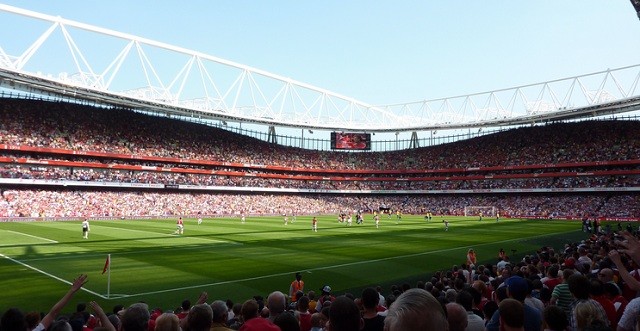 Arsenal face Bayern Munich on Tuesday evening in their third match of the Champions League.
Arsenal lost their previous two matches in Europe, which puts them last in their group and in danger of not only missing out on the knockout stages but, also possibly a place in the Europa League. Arsenal needs to win at least one of their two matches against Bayern if they are to stand a realistic chance of getting through their group.
There is a scenario where Arsenal can still qualify from their group even if they lose their next two matches. That would require Dinamo Zagreb and Olympiakos to draw their next two matches against each other, or both teams would have to beat the other once. If either of those things happened, Arsenal would have to beat both Zagreb and Olympiakos, as would Bayern Munich.
However, a win against Bayern Munich at The Emirates on Tuesday would put Arsenal's qualification prospects back in their hands to a degree.
The biggest talking point going into this match is if Arsene Wenger will stick with David Ospina who has been playing regularly for Arsenal in the Champions League, or will he give Petr Cech his European Arsenal debut. The manager, as usual, has not given any indication on what his decision will be, and we will likely not find out until the lineups are released an hour before the match.
There isn't much team news ahead of Tuesday's important match otherwise. It seems that Arsenal has come through the international break and their match against Watford unscathed. Alexis's groin does not appear to be a concern right now, and Gabriel should be fit again after missing out on Saturday's match.
Here is Arsenal's probable lineup:
Goalkeeper – Cech
Interestingly enough, Ospina did not make the squad on Saturday and instead youngster Matt Macey was on the bench. No explanation about this decision was given and it is most likely that David Ospina was absent due to traveling back from South America after representing Columbia in their World Cup Qualifiers.
Nevertheless, Cech should get the start on Tuesday. This is a big match and if Ospina is not 100% than Cech should start. Ideally, Cech would start this match regardless of Ospina's health, but Wenger has always given his number 2 keeper a run in a couple of competitions.
Right Back – Bellerin
Hector Bellerin put in another terrific performance on Saturday and should keep his place in the squad on Tuesday.
Center Backs – Gabriel & Koscielny
Gabriel missed out on Saturday due to illness according to Arsenal, however Sky Sports commentator Martin Tyler claimed that Gabriel had undergone a small procedure. Whichever it is, Wenger has declared Gabriel fit and considering that Per Mertesacker's lack of pace was more obvious then ever against Watford, Wenger will go with the speedy and powerful partnership of Gabriel and Laurent Koscielny.
Left Back – Monreal
Another player who has been playing consistently well, Nacho Monreal will not lose his place in the squad on Tuesday.
Kieran Gibbs has come into the side for Champions League matches this season and performed well enough, but considering that it seems like Arsenal is building a bit of a rhythm and consistency, Wenger will not rotate his squad too much.
Defensive Mid – Coquelin
Francis Coquelin had an excellent match against Watford. He ran the midfield by completing 69/73 passes and by showing aggression when Arsenal lost possession. Last time Bayern and Arsenal played, Coquelin was on loan with SC Freiburg. He could make a big difference in midfield on Tuesday.
Central Mid – Cazorla
Santi Cazorla seemed to be rejuvenated on Saturday after scoring two goals for Spain during the week. He played with energy, dribbled his way out of danger, and made a nuisance of himself when Watford had the ball. His clever pass through to Mesut Özil set up Arsenal's first goal.
He will have to continue to elevate his performance on Tuesday as Bayern will look to break up Arsenal's counter attacking play, much of which should start with closing down Cazorla.
Attacking Mid – Özil
Özil played with energy and zest on Saturday. It took a bit for him to get into the game but by the 60th minute he took full control of the game and ended up with two assists before being subbed off at the 80th minute mark.
His first assist was a bit lucky, however, referee Mike Jones was a second away from whistling for a penalty on a foul on Özil before Alexis tucked away his German teammates accidental lay off.
His second assist was a piece of beauty. Özil stormed into the box, going after a shot that had been parried into his path by Gomes only to pull the ball back at the last minute for Olivier Giroud to finish neatly in the top corner.
https://www.youtube.com/watch?v=IgNfuFzZvwM&feature=youtu.be
Özil will have to play like he did against Manchester United a few weeks ago if Arsenal is to win.
The last time these two teams met at the Emirates, Özil started the game brightly and received a penalty. Unfortunately he missed that penalty and his confidence was visibly zapped. Over the past year, we have seen a more confident Özil who doesn't shrink in the face of adversity.
Wide Right – Ramsey
Aaron Ramsey finally got his first club goal of the season and he deserved it. He missed a golden opportunity in the first half, but the thing that is special about Ramsey is that he always manages to find himself in dangerous positions, and regardless of how he is performing, he keeps on playing like a mad man.
He should give Bayern a difficult time down the right and through the center.
Wide Left – Alexis
Alexis has now scored ten goals in the past six matches for club and country. That is remarkable run that will hopefully continue on Tuesday.
There is some concern over his groin but he has always shown extraordinary recovering ability and its doubtful that he would ever let Wenger rest him in a match against a team such as Bayern.
Striker – Walcott
Theo Walcott didn't have the best of games against Watford but he showed the same high work rate he exhibited against Manchester United.
The timing of his runs was off on Saturday and he found himself offside by half a step on a few occasions in the first half. He was withdrawn at the 63-minute mark for Giroud.
Although Giroud scored, he still didn't have a massive impact on Arsenal's play and ball movement. In the past, Giroud's link up play has made him such an important member of the squad. He hasn't shown anything in terms of link up play recently, which is worrying considering it's one of the most valuable skills he brings to the team, besides his aerial ability.
Wenger likely didn't see enough to warrant Walcott being dropped from the squad on Tuesday and his pace should be an asset in the counter attack against a Bayern team that isn't known for their pacey center backs.
(4-2-3-1)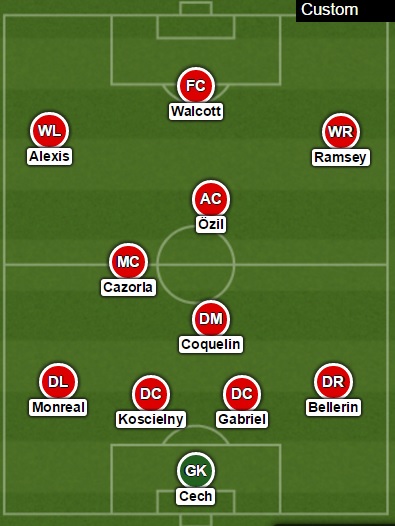 http://lineupbuilder.com/?sk=97dx3