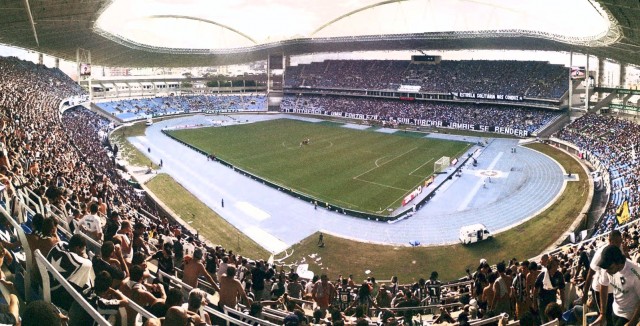 After Atlético Mineiro's 4-1 loss to Sport Recife this weekend, the Brasileirão title has been all but sealed up by Corinthians. With 7 matches the play, the side which has lost just 4 times this season holds an 8 point lead, all but assuring themselves of a title.
However, the conclusion of this Brazilian football season will not lack drama. 6 teams are within 3 points of the all-important 4th place, and the relegation battle looks to be particularly entertaining, especially given the uptick in form of late from Vasco da Gama and Joinville. The greatest drama remaining though, lies in star-studded the final four of the Copa do Brasil. Three sides from the state of São Paulo, Palmeiras, Santos, and São Paulo join Rio de Janeiro side Fluminense to make up two semifinals full of star power and intrigue. The prize? Bragging rights over the rest of the country, and a coveted group stage spot in next season's Copa Libertadores. The Copa do Brasil represents Fluminense's only chance of qualifying for Libertadores, but Santos, São Paulo, and Palmeiras all sit just inside or just outside the Brasileirão's top-4, giving them two cracks at picking up a Libertadores spot.
For São Paulo, this Libertadores represents a chance to (possibly) send their iconic goalkeeper Rogério Ceni out of the game with one final trophy, for Santos, a chance for their young stars to shine alongside the Brasileirão's top goalscorer, 35-year old Ricardo Oliveira. For Palmeiras, the Copa do Brasil and its accompanying Libertadores berth is a chance to state that the club is back in the big time after being relegated 2 years ago, and flirting with the bottom four all the way until the final day last season, and for Fluminnese, it's a chance to save a disappointing season marred by the mistake that was signing the ineffective and expensive Ronaldinho.
With the stakes established, let's take a closer look at each of the semifinals, and answer the important questions for each of the remaining sides:
São Paulo vs Santos:
The Storyline: While not the fiercest rivalry in the state of São Paulo, that honor belongs to Corinthians and Palmeiras, the San-São Derby is always a fun, intense contest between these two sides. So far this season, they've met three times, with Santos winning twice at home, and São Paulo once at the Morumbi. Ricardo Oliveira, as he has been all season, will be the man to watch near the net. For São Paulo, striker Alan Kardec returned off the bench over the weekend in a 2×2 draw with Vasco, and could feature alongside the so-far effective Alexandre Pato up top.
Question for Santos: How will Gabigol Play?
Gabriel Barbosa has been nothing short of brilliant for Santos this year, but has yet to score against São Paulo in three matches. Though he is young at just 19, Gabigol has played over 100 matches for his club, meaning he should be used to the big stage, and ready for it. All it takes is one through ball from the talented Lucas Lima to spring the youngster through the defense and on goal, where he has been clinical lately. If Gabigol can get on the scoresheet, especially in the first leg at the Morumbi, Santos' run could take them into the final. If Gabigol cannot be effective, the pressure will simply mount on Ricardo Oliveira to carry Peixe into the finals.
Question for São Paulo: Will it be a Magical Run?
São Paulo's season has been full of twists and turns. The side are on their third manager, after firing Muricy Ramalho, and seeing the Colombian Juan Carlos Osorio leave for the Mexican National Team. In is Doriva, former Ponte Preta manager, who successfully took the side from Campinas to the final eight of the State league, and had them playing their best football when he left. The other story for the tricolor has been the 42-year old Rogério Ceni in goal. There's no question that Ceni, who made his São Paulo debut 1993, is a club legend, but his play has been anything but this season, as goalkeeping blunders from Ceni have twice allowed Palmeiras' Robinho to score goals that should never have been scored. Ceni has announced that he will retire at the conclusion of this campaign, though he has been known to put off retirement in the chase of Libertadores glory before. Because of the impending retirement of their legend, São Paulo seem to have fate on their side, with the potential for one final cup run with their iconic keeper still in play. If Ceni starts to make a few magical saves, and maybe scores one of his trademark free-kicks, São Paulo could have a date with destiny in the final.
The Prediction: Everything points to Santos being the better side. Lucas Lima is a better playmaker than anyone São Paulo has, and Ricardo Oliveira is the best pure goal-scorer in Brasil right now. Santos should win this tie. But this is football, and anything can happen in football. I think Ceni and São Paulo have a little magic left in them. Ceni will score at the Morumbi and São Paulo will hold off a late Santos charge at the Vila Belmiro to win the tie 2×1. 
Palmeiras vs Fluminense:
The Storyline: Palmeiras last won the Copa do Brasil in 2012, the lone bright spot in a horrible season that saw them relegated. Verdão returned to the top flight last season, but were poor in form throughout, barely escaping relegation on the final day. After a total retooling of things in the off-season, of the projected starters, only one, goalkeeper Fernando Prass played for the full squad last season, Palmeiras are set to announce their return to the top of Brazilian football behind one of the country's best youngsters, Gabriel Jesus, with a Copa do Brasil title. For Fluminense, it has been a disappointing season, and the side will look to erase the memory of a winter in which the club signed Ronaldinho, but saw him play just 7 times before agreeing to terminate his contract. A Copa do Brasil title would change all of that, and give the squad a much-needed Libertadores trip. These sides met twice this year, with Palmeiras winning both matches, 2×1 in São Paulo, and 4×1 in Rio.
Question for Palmeiras: Will the defense hold up?
With no shortage of goal-scoring options, there's little question that Palmeiras can score goals. The question for Verdão will be its defense. After an embarrassing performance in a 5×1 defeat to bottom-dwellers Chapecoense, the backline was a bit stronger against Ponte despite losing 1×0, and was stronger still in a  3×1 win over Avaí. Fluminense aren't the most dynamic offense in Brazil, looking to play in the air with Fred. Don't be surprised if Victor Ramos starts over Jackson in the Palmeiras defense to give a taller presence to mark Fred on crucial set pieces and corners. Palmeiras will probably give up a goal they shouldn't over the two legs, much like they did in allowing Anderson to score for Internacional in the quarterfinals, but if the defense can simply be adequate, there's no reason this side shouldn't make the finals.
Question for Fluminense: Can Fluminense keep up with Palmeiras' attacking speed and creativity?
Fluminense play boring football. While it is usually effective, especially against less talented teams, at its core, Fluminense's style of play is quite boring. They sit back, then look for a chance to go forward and play a ball in the air, usually to Fred, sometimes to Cícero. Once they score, they sit back even further and look to repeat the same formula that scored them their first goal. That style of play won't be effective against a Palmeiras side that possesses multiple creative players that, if given space, can do damage even against a crowded attacking half. Verdão's wingbacks are terrific at getting forward to launch in crosses for the best ariel team in the country. Fluminense won't be able to sit back and hope to poach a goal if they want to advance. The best way to beat Palmeiras is to take away their possession, and defend the counter-attack. If Fluminense can't do that, it could be a long two legs.
The Prediction: Nothing about the way Fluminense has played over the past 2 months has been impressive. They've won just 3 of their last 15 matches, just one of those away from home. Palmeiras should be able to play Flu to at least a draw during the first leg in Rio, then assert their dominance back at the Allianz Parque in São Paulo. This one won't be as close as the scoreline suggests, with Palmeiras advancing 3×1 on aggregate.