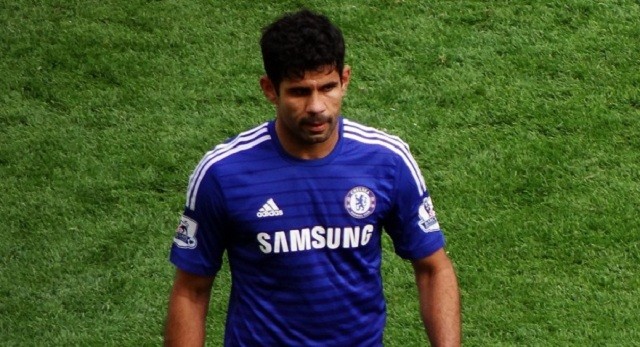 Chelsea's form this season has been terrible and has shocked the fans whose team was known as the biggest contender of winning the Premiere League, with the Blues nearly out of the Premiere League race after only 9 weeks!
Another big shock for the Blues is that their defense which was applauded as the best defense in the Premiere League (and even the entire Europe), has been their main weakness in the current season. Disappointing performances of John Terry, Gary Cahill, Cesar Azpilicueta, and horrible showings from Branislav Ivanović have downgraded Chelsea's defensive prowess and made them very weak in the backline.
Chelsea's offensive players haven't been great either, with Cesc Fabregas, Diego Costa, and Eden Hazard disappointing the fans after they were surrounded with much hype and buzz in the previous season.
All of these problems have caused Chelsea to have a disappointing start in the Premiere League and has caused their fans to demand a good cup run in the Champions League. So at this point, the most important thing for Chelsea is to completely concentrate on the UEFA Champions League and their must-win game against Dynamo Kyiv.
Goalkeeper – Asmir Begovic
With Chelsea's first choice goalkeeper, Thibaut Courtois out for nearly two months, Asmir Begovic has become the Blues' main keeper. His performances have been mostly mediocre and while he isn't as great as Courtois, he could hold his own and is the best choice to start in the net against Dynamo Kyiv.
Right Back – Cesar Azpilicueta
Although the Right Back position isn't where Azpilicueta shines the brightest, he is still the best available choice for Chelsea's right back position, which has been one of their most breakable positions this season.
Central Defender – John Terry
After yet another disappointing performance from John Terry in their game against Southampton, it's apparent that Jose Mourinho (Chelsea's manager) has lost his confidence in him. However, with Gary Cahill injured, John Terry has the best chance to prove Mourinho wrong and show that he isn't finished. Chelsea fans are all hoping for John Terry, to make a big comeback, and the game against Dynamo Kyiv could be his biggest (and maybe final) chance to do so.
Central Defender – Kurt Zouma
Extremely young and incredibly talented, Kurt Zouma has been one of the best players in Chelsea's backline this season. He has perfect pace, physics, and tackling, and is an obvious choice to start against Dynamo Kyiv.
Left Back – Abdul Rahman Baba
Chelsea's game against Dynamo Kyiv is predicted to be an easy win for the Blues, so this would be a great opportunity for Abdul Rahman Baba to start and get ready for their Premiere League matchups.
Central Midfielder – Cesc Fabregas
Cesc Fabregas was one of Chelsea's best players in the previous season, but has downgraded massively and has lost his magic. Both Jose Mourinho and Chelsea fans are slowly losing confidence in him and he desperately needs a good performance to gain back their trust.
Central Midfielder – Ramires
Ramires has been one of Chelsea's most consistent players this season, with him playing well and feeding the attackers with good balls (something that Fabregas has struggled to do). He is incredibly fast, defends well and is lethal when attacking, so he is an obvious choice to start against Dynamo Kyiv.
Right Wing – Willian
Contrary to the other Chelsea players, Willian's form this season has been incredible and he has played even better than he did in the previous season. He has been the Blues' best player in the current season, and should be the first name on Chelsea's team sheet.
Attacking Midfielder – Ruben Loftus-Cheek
Ruben Loftus-Cheek is easily one of Chelsea's best players in their recent troubled days. He attacks well, but he also defends his line. He is a great midfielder and a huge prospect, and should be used against Dynamo Kyiv, as these smaller games could help him develop massively.
Left Wing – Pedro
Pedro has been one of Chelsea's best players this season and has outperformed Hazard to take his place in Chelsea's first team squad. Hazard has been Chelsea and Premiere League's most disappointing player this season and has lost Jose Mourinho's trust in himself. So it would make the most sense for Pedro to start instead of Eden Hazard who still hasn't got over his summer break and doesn't really to seem to bother or care about his team!
Striker – Diego Costa
Diego Costa is another Chelsea player who hasn't lived up to the expectations, although he is still Chelsea's best choice for the striker position and would most likely start ahead of Remy and Falcao.
(4-2-3-1)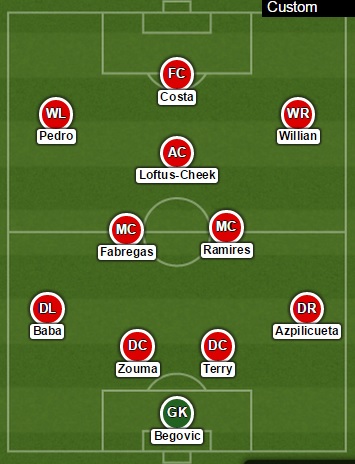 Via – Lineup Builder