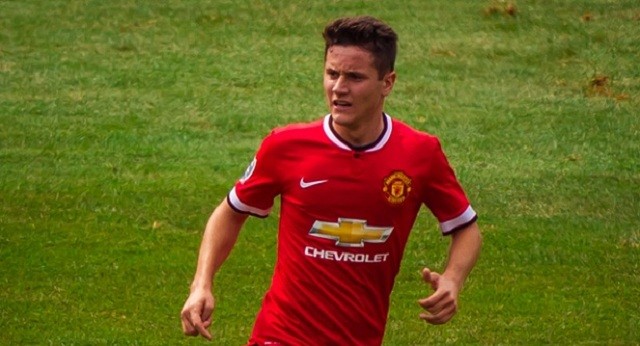 Manchester United fashioned a new starting XI featuring Marcos Rojo, Phil Jones, and Ander Herrera as they dominated Goodison Park in their 3-0 win.
Nobody struggled for United while plenty had their game of the season. Wayne Rooney, Morgan Schneiderlin, and Rojo all had great performances, but Ander Herrera's energy and execution was tops for the Red Devils.
Herrera looked well rested as he played with great pace in his 80 minutes. Throughout the game Herrera passed and immediately moved off the ball to find open space which created opportunities for him and the front three. He completed 93% of his passes.
Against Arsenal, it was commonly mentioned how United players passed and then walked which made it tough to create high quality scoring chances. Herrera's high energy seemed to spark the entire squad.
It also didn't take long for him to add to Manchester's tally as he found open space in the 22nd minute and off a Marcos Rojo cross, he directed a header into the bottom right corner.
Herrera also worked beautifully with Wayne Rooney which certainly helps the chances of 26 year-old Spaniard to get consistent starts. Herrera found Rooney on a break leading to an assist on United's third goal.
Herrera still has not solidified a spot in the mind of Van Gaal due to the fact that Memphis would be on the bench. It is also tough to sit Herrera because of his passion for playing in Manchester. He shows a lot of love for the club and his attitude is good for a healthy team. We cannot forget that Ander Herrera has now scored 6 Premier League goals for Man United in 2015, only Juan Mata has more in that time (7).
United's greatest test thus far will be next weekend against Manchester City and it will interest everyone to see how Van Gaal will structure his attacking unit.