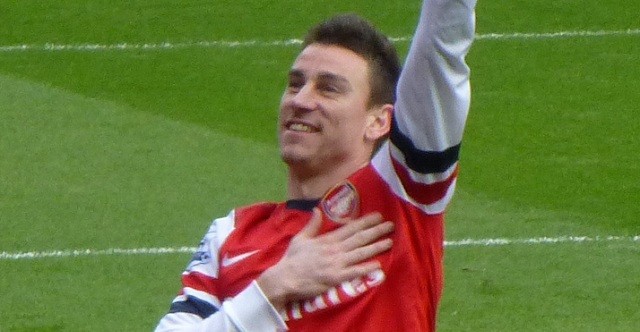 Arsenal looked vulnerable early on against Watford as the underdogs managed to get the ball in dangerous positions on multiple occasions in the first 20 minutes of the match. Luckily for Arsenal Laurent Koscielny was able to make a couple of crucial interceptions, and Petr Cech was able to make a decent save to keep the score tied early.
Watford continued to look dangerous as they squandered a few more decent chances later in the game. Then at the end of the first half, a miscommunication between Per Mertesacker and Cech almost led to a Watford goal, but Arsenal was able to survive unscathed. The Gunners had their share of chances as well, but the game truly looked up for grabs at the half.
Watford continued to prove difficult to deal with in the second half, but in the 62nd minute Arsenal finally broke through.  Mesut Ozil was tackled hard in the penalty area, and the ball fell directly to the feet of Alexis Sanchez who was able to place the ball into the top corner of the net to put the Gunners up 1-0.
Five minutes later Arsenal was able to take complete control of the game as Olivier Giroud fired a shot into the top of the goal to give Arsenal a comfortable 2-0 lead.  
Again only a few minutes later Aaron Ramsey added yet another goal to make it 3-0.  Watford were able to hang with Arsenal for the first 60 minutes, but Arsenal's quality eventually proved too much for the newly-promoted Watford to deal with.
Although Arsenal ended up breaking through for 3 goals, my man of the match award goes to Laurent Koscielny due to his reliable defending throughout the game.
In the first half when Watford was still in the game, Koscielny made 6 interceptions, had 3 clearances, and had 2 tackles.  His first half performance was crucial for Arsenal as they were able to keep the score tied early before they broke through against the Watford defense.
Koscielny played well in the second half too, and he finished with 6 interceptions, 8 clearances, and 4 tackles.  Koscielny was the main reason Arsenal was able to produce a clean sheet in this game, and his clutch defending throughout the game prevented Watford from getting any momentum.
Although Arsenal ended up scoring 3 goals, it was the play of center back Laurent Koscielny that was the key to victory for the Gunners.