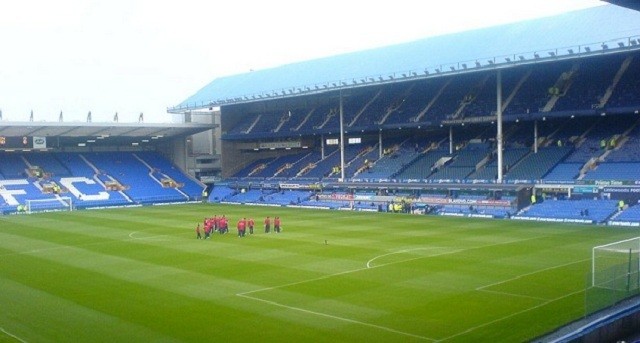 After an unfortunate international break for the Premier League teams, Everton will host Manchester United at Goodison Park on Saturday. Everton will look to carry on their fine form against the Red Devils, especially after three consecutive wins against the Manchester side at home.
Everton currently sit in 7th place with a five game unbeaten run, and United currently sit 3rd in the table and coming from a disappointing 3-0 defeat to Arsenal.
Goalkeeper
After making a start for Spain against Ukraine, goalkeeper David De Gea will look to continue showing why he is one of the best in the world.
Left-Back
Ashley Young will most likely repeat in the left-back spot, as Luke Shaw is out and Louis Van Gaal does not favor Marcos Rojo to start.
Center-Back
Third-captain Chris Smalling has been great for England on the winning run of games they have, so he will start. Partnering Smalling would be Daley Blind, the Englishman and Dutchman partnership will most likely stand as it is, even though Phil Jones is back as a possible alternative.
Right-Back
Matteo Darmian recently scored his first international goal for Italy against Azerbaijan, and will look to forget the Arsenal game in order to carry on the form he has been having with his national side.
Defensive Midfield
The only Manchester United midfielder who is currently not injured in any way is Morgan Schneiderlin, and will most likely start the game being paired up with German international Bastian Schweinsteiger. Schweinsteiger has proven to be the drive United need in the midfield in order to keep pushing onward and the Frenchman next to him will perform a Carrick-like role.
Right-Wing
Manchester United player of the month Juan Mata has been a fan favorite since signing from Chelsea back in 2012. Louis Van Gaal has been playing him constantly on the right side and doesn't seem like it will stop any time soon.
Left-Wing
Summer signing Memphis Depay has not had the best of starts to his Premier League campaign, but will be looking to prove his worth against the Toffees. Depay, 21, has only scored four goals since being brought in for £25 million from PSV, two of those goals scored in the Champions League first leg against Club Brugge.
Center-Attacking Midfielder
Wayne Rooney will most likely start against his former club, even though he has not had the best of starts for United. Rooney recently broke the record of most goals scored for England, but his contribution to the Manchester side has been nowhere near the form he showed on recent years and has lately been on the decline. Van Gaal will most likely pick Rooney as he is the team's captain and is still hopeful the former Everton man will come back to good form.
Striker
Summer signing Anthony Martial has quickly become Manchester United's main striker as he already has four goals and one assist for his club. Matial's constant runs toward the opposition have been Manchester United's best opportunities for goal, this game will be no exception for the young man.
(4-2-3-1)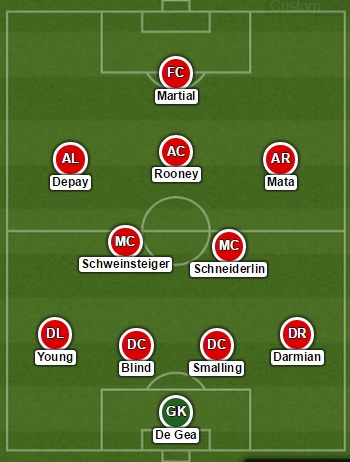 http://lineupbuilder.com/2014/custom/?sk=96lx6