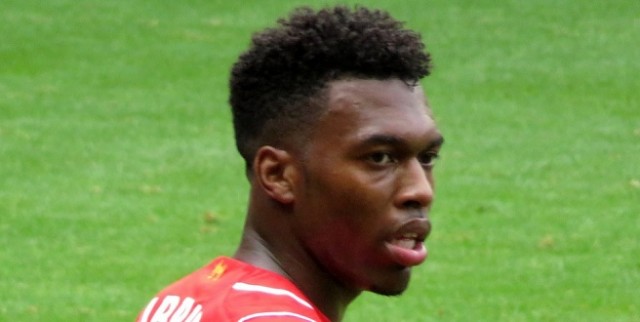 As the dust settles after a whirlwind week for Liverpool, Jurgen Klopp and his new squad begin preparing for Tottenham as they travel to White Hart Lane on Saturday.
Jurgen faced two huge setbacks early Wednesday and Thursday mornings as Joe Gomez and Danny Ings both suffered cruciate ligament damage and will be out for the rest of the season.
Christian Benteke is unlikely to play against Spurs as he re-injured his hamstring. Forward Roberto Firmino will also not be in the squad because of a back injury that has had him sidelined for three weeks.
Dejan Lovren, along with Philippe Coutinho, have returned to full training after picking up knocks earlier in the season.
On Saturday, Liverpool will look to win one of the most anticipated Reds matches in recent history. Jurgen is best known for selecting a 4-2-3-1 formation, and his player selections will look something like this:
Goalkeeper – Simon Mignolet
The goalkeeping position for Liverpool has recently been highly scrutinized and with the arrival of Klopp, many German based keepers such as Bernd Leno from Leverkusen have been linked to an Anfield arrival in January. Regardless, Simon Mignolet is Liverpool's best option in goal. He has started the season well, but is often called into question because of his hesitancy in the six yard box.
Left Back – Alberto Moreno
With the absence of Joe Gomez, Alberto Moreno should start in the LB position for Liverpool. He has been the most improved defender for the Reds this season. Moreno struggled to get into the starting eleven early in the season, but has proved himself as a mainstay in the squad after quality performances in defense.
Centre Back – Mamadou Sakho
Sakho should start at centre back because of his superb performances against Aston Villa and Everton. His leadership qualities have developed immensely as the season has progressed. His recent captaincy against Bordeaux solidified his return to becoming the first choice centre back for Liverpool.
Centre Back – Martin Skrtel
No real surprise if Skrtel starts vs Spurs. However, his ability to play dirty and make errant tackles have been a liability for Liverpool so far. There is no better option for Liverpool in defense, as Lovren is still not fit.
Right Back – Nathaniel Clyne
The first choice right back for Liverpool is Nathaniel Clyne. Clyne struggled at Sion in the Europa League, but on the back of a good performance at Everton, should remain in the starting lineup.
Defensive Midfielder – Emre Can
Emre has had limited minutes so far this season but he should start on Saturday with his improving defensive ability, and value in attack. Klopp has seen Can play in his time with Leverkusen and will recognize the quality Can possesses.
Defensive Midfielder – Lucas Leiva
Lucas has been tremendous in the holding role for the Reds. His hard work in defense helps the back four with communication and solidity. He constantly stops counter attacks and works to keep possession of the ball, which is why he is the most vital part of the Liverpool squad.
Left Attacking Midfielder – Adam Lallana
Lallana has struggled to fully integrate himself into the Liverpool squad so far this season. With two fantastic performances with England during the international break, Klopp should look to Lallana's technical ability for support in attack.
Right Attacking Midfielder – James Milner
In the absence of Jordan Henderson, Milner has had the freedom to move up and down the pitch, while producing insightful balls to the strikers. Milner has had great performances for Liverpool in his last couple of games, and will look to continue his fine form as captain of the Reds.
Central Attacking Midfielder – Philippe Coutinho
After being withdrawn from the Brazil squad for a hamstring injury during the international break, Coutinho has returned to full training, and if fit, will start for Liverpool. He is no question Liverpool's best and most consistent playmaker.
Striker – Daniel Sturridge
Sturridge is without a doubt Liverpool's leading talent up front. He proved to be fully recovered from last seasons hardships after netting 2 goals against Aston Villa.
(4-2-3-1)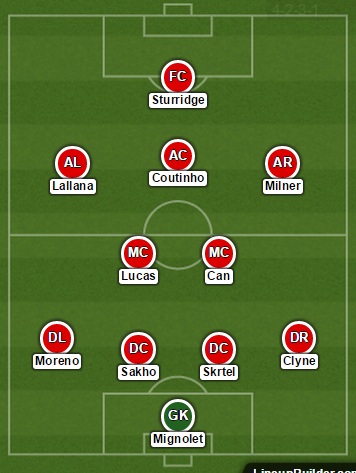 Via – Lineup Builder