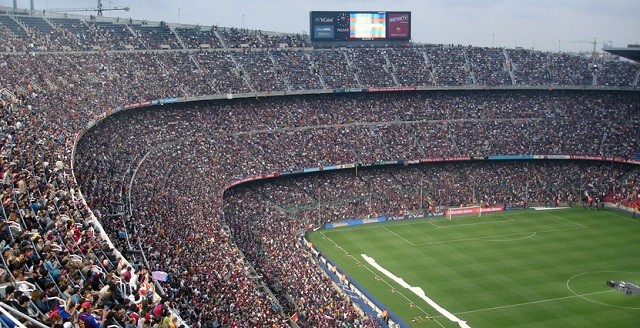 As internationals return to the Camp Nou, they look for a win this Saturday night when they face visitors Rayo Vallecano.
The European internationals return on a high where the likes of Spain, Croatia and Germany all accomplished their duties and booked their flight to France for Euro 2016. South American internationals Dani Alves come home happy with Brazil with a further 3 points while Mascherano's Argentina drew with Paraguay, disappointingly earning 1 point.
Luis Enrique expects nothing less than a victory following their 2-0 away defeat to Sevilla.
Defense
Claudio Bravo is the first name to start. Coming strong from Chile's current 100% win record in World Cup Qualifiers with Chile, he is the man in goal.
We could see Jordi Alba at left-back, but either Marc Bartra or Adriano seem very likely to start.. Both players should have no problem defending against Vallecano, who are currently 15th in the league. My pick is Adriano to start.
The defensive duo this time around should be Gerard Piqué and Jeremy Mathieu. Both will seem to make a good center-back pair. Piqué's played full 90 minutes of all games since his return from his red card ban. Mathieu should be able to put a good performance if Javier Mascherano isn't chosen to accompany Piqué.
Dani Alves fits at right-back. Marc Bartra also fits this role along with Sergi Roberto, if he isn't slotted in the midfield. Either Roberto or Alves are great choices.
Midfield
Ivan Rakitic and Sergio Busquets are obviously starters at best; might be put on the bench to let Barça B players start. Aforementioned Sergi Roberto can definitely play in midfield and is my pick alongside the starters. We can also see Munir El Haddidi play there to create chances.
Attack
Neymar returns from vacationing in Brazil as his red card ban for international play will make him make a great impact for this upcoming fixture. He's bound to score. Luis Suárez, who is also banned from international play, is up front in the center. The right-wing spot will likely be filled by Sandro.
Ter Stegen, Gumbau and Sergi Samper are a few names to be put on the bench. 
(4-3-3)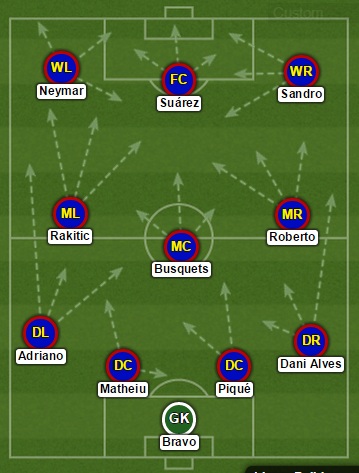 Via – Lineup Builder