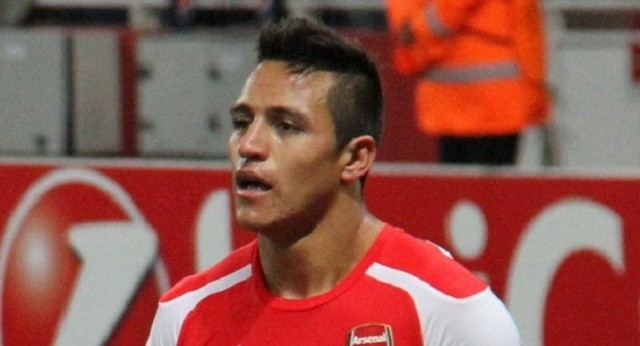 Arsenal and Watford face off during Saturday's late fixture at Vicarage Road.
Arsenal comes out of the international break unscathed and in good form. Their last match was the 3-0 win at home against Manchester United; a result that vaulted them into second place in the table.
Arsenal should come into this match full of confidence, not only because of their previous match, but also because of the form shown by the club's players who played for their nations. Aaron Ramsey, Santi Cazorla, Theo Walcott, Joel Campbell, Alex Oxlade-Chamberlain, Alexis, and Olivier Giroud all scored, giving Arsenal a combined 11 goals over the international break. You can read up on the performance of some of these players here.
Unlike some of their rivals, Arsenal come back from the break with a healthy squad, bar Jack Wilshere, Tomas Rosicky, and Danny Welbeck, and despite fears over Alexis' groin.
Arsene Wenger indicated that Laurent Koscielny stands a chance to feature against Watford, which is good news ahead of Arsenal's match against Bayern Munich on Tuesday.
Depending on the health of Koscielny and Alexis, we should see a largely unchanged Arsenal side on Saturday.
Here is Arsenal's most probable lineup against Watford.
Goalkeeper – Cech
Petr Cech put in an excellent display against Manchester United. Although he had little work to do, he made one superb save on a close range effort by Anthony Martial. He has been in excellent form the past month and a half.
Right Back – Bellerin
Hector Bellerin will look to pickup where he left off before the international break. It should be only a matter of time before he gets his first call up to the Spain squad. Could Euro 2016 be in the horizon for Arsenal's young right back?
Center Backs – Gabriel & Mertesacker
Neither Gabriel nor Per Mertesacker played for their nations during the international break. Gabriel was not called up and Mertesacker retired from international duty after Germany won the World Cup in 2014.
Both are fresh, whereas playing Koscielny ahead of Tuesday's important match may be too much of a medical risk. Wenger will assess his options and a combination of the all three of these players still serves as an excellent center back pairing.
Left Back – Monreal
Nacho Monreal, like Bellerin, will look to pickup exactly where he left off. He put in an excellent display against Manchester United last time he put on the Arsenal shirt.
Kieran Gibbs started for England against Lithuania and put in a solid display. That has been the problem with his performances though. He hasn't done anything wrong, but he hasn't done anything that stands out. Normally that would be a positive, especially from a left back, but it seems that he will need to do something special if he is to climb ahead of Monreal in the pecking order.
Defensive Mid – Coquelin
Francis Coquelin was not called up to the France squad, but Arsenal's tenacious midfielder still has hopes to represent France at Euro 2016.
The international break afforded Coquelin a much-deserved rest and he will be raring to go once the action starts again on Saturday.
Central Mid – Cazorla
Cazorla played in a more advanced role for Spain against Luxembourg, which put him in a position to score two of his country's four goals.
His second goal was especially pleasing. It was a well-placed shot from outside the box and looked like one of many goals he scored during his first two years at Arsenal.
He has come under a bit of criticism for not hitting the back of the net more often the past two years, despite the fact that he is now playing in a less advanced position.
What has been most concerning is his inability to hit the target. Hopefully his second goal against Luxembourg is a sign that he has found his shooting boots again.
Attacking Mid – Özil
Mesut Özil played in both of Germany's matches. He started in Germany's surprise 1-0 loss to Ireland, and played the full 90 minutes in a 2-1 win against Georgia. He played a starring role in the Georgia game when he set up Max Kruse for Germany's second goal.
Özil played an important role in Arsenal's win over Manchester United as he scored a goal and set up another. Wenger has challenged Özil to maintain his form for the rest of the season.
Wide Right – Ramsey
Ramsey helped Wales qualify for their first major international tournament in 57 years. He scored in his country's 2-0 win over Andorra, which was his first goal of the season for both country and club.
Wide Left – Alexis
Alexis' superb form continued for Chile. He scored his country's second goal in a 2-0 win over Brazil and added two more in a 4-3 win over Peru.
There is some concern over his groin, but Wenger indicated Alexis is confident he is healthy enough to play.
"From the internationals we only have positive news. We are still waiting for Campbell, Alexis, and Ospina to return, but they all texted back to say they are OK, so we just have to see if they were objective in their assessment."
If he is ruled out, Oxlade-Chamberlain is likely to come in his place.
Striker – Walcott
Walcott put in an excellent display for England in their match against Estonia. He was England's most dangerous and creative player throughout the match. He scored their first goal with a well placed finished that showed the confidence Walcott currently possesses.
Giroud had a good game for France against Denmark. He scored both of his country's two goals. Those goals should go a long way to repairing his confidence and form for club.
In fairness though, both of those goals were a bit lucky and Danish keeper Kasper Schmeichel really should have handled them better.
At the moment, Walcott is the man playing with confidence. It's hard to imagine Wenger not selecting the Englishman especially when you consider his high praise for Walcott's performance against Manchester United two weeks ago.
(4-3-2-1)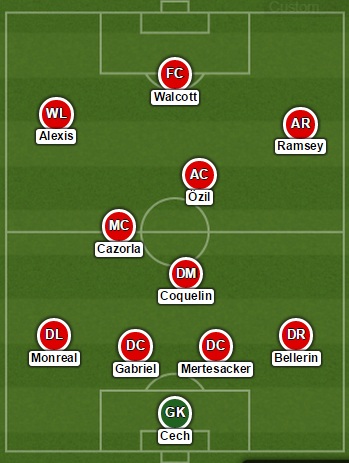 http://lineupbuilder.com/?sk=96lx7