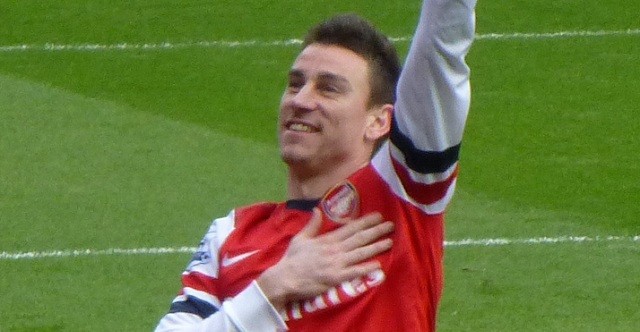 Laurent Koscielny has been out of action for Arsenal since a Champions League match against Olympiakos on September 29th.  Koscielny was forced to leave that game with a hamstring injury, but manager Arsene Wenger has offered hope that Koscielny may be able to return in the near future.
Wenger has told Arsenal.com that "Koscielny has a slight chance to be back on Saturday".  Although it sounds like Koscielny is doubtful for Saturday's Premier League match against Watford, it does seem that his return to the lineup may not be too far away.  Arsenal plays an immensely important Champions League match on October 20th, and if Laurent Koscielny is able to return in time for that game it would be a huge boost the team.
In the absence of Koscielny, Gabriel started at center back alongside Per Mertesacker in the club's 3-0 victory over Manchester United.  Gabriel has been mostly reliable filling in for both Koscielny and Mertesacker this season, but Arsenal would still feel much more comfortable with their much more proven pairing of Mertesacker and Koscielny going forward.
Koscielny has been valuable this season for Arsenal, leading the team with 4 interceptions per game. He is also one of the team's most accurate passers, completing 90.3% of his passes, although most of these passes have come from somewhat close distances.  Koscielny's anticipation and distribution will prove vital for Arsenal when he resumes playing.
Another important factor about Koscielny's return is that he has a lot of very valuable experience playing with Per Mertesacker.  This is extremely important at the center back position because communication is of the utmost importance, and the familiarity between Koscielny and Mertesacker should help solidify the Arsenal defense.  Arsenal will be an improved team when Koscielny and Mertesacker are able to resume playing together.