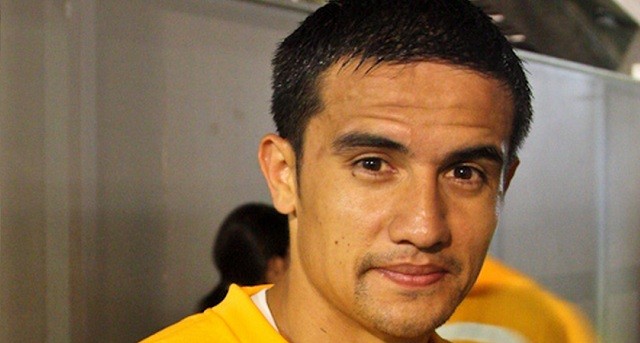 Tim Cahill has come out stating that there is a likelihood that he may not be able to feature in the A-league. It is since there is no Australian club that is interested in signing him up.
Cahill is a Socceroos icon and approaching the end of his contract soon as the Chinese Super League is coming to an end in several weeks' time. Unfortunately, he still hasn't received any offers from Australian football clubs.
In an interview with Fox Sports News, Cahill quipped that it's impossible to have temptations yet there are no offers on the table. Tim was honest enough to share that he has never had any relationship with the FFA and even A-League clubs when it comes to being issued with a contract.
Cahill elaborated that there were questions always being asked about him and his career by the media. However, the fourth estate has never once asked about the FFA and the clubs.
Tim Cahill's Future
The iconic football player is in the land down under as he is launching his new clothing line and his autobiography. He has made a resolve to continue his career in the people's Republic of China, and he is expected to extend his contract for another season with the same club.
Cahill was brought on board by Shanghai Shenhua at the beginning of the year in a huge transfer deal. The move saw Cahill reignite his skills, and his career is flourishing now. During his career in the Chinese nation, Cahill has made 25 club appearances managing to score nine goals. Cahill is a first-choice Socceroos starter and manager Ange Postecoglou is pleased with his form.
During the interview, Tim who will be turning 36 in December stated that by the 22nd or any day before or after he will sign the new contract. For people looking for the best betting strategies, it is a certain win if you bet on him staying with the Chinese club. Tim's decision to stay on revolves around what is right for his family and for his professional career.
Tim's Take on Soccer
As a current Socceroos player enjoying his time in the limelight, Cahill's greatest football achievement must be leaving the clubs, he has been part of having gained respect from the coaching staff and by his fellow teammates.
Before going to play for the Chinese team, Cahill also played in English Premier League for Everton. He also was in the Millwall FC team in the Championship. Tim also played Major League Soccer for the New York Red Bulls. Tim's take on football goes beyond glory and trophies.
Cahill comes from the school of thought that "loyalty in sport is important". From his stint at Millwall, Everton, New York and Shanghai, he has been loyal to a fault. His loyalty saw him foster flourishing relationships that have never been forgotten.
He relishes in the idea of leaving a mark in every club he has the opportunity to sign up with. During a Sunday afternoon meet with fans at the Sydney's Central Park, specifically the Glue store, Cahill disregarded the modern view that loyalty isn't necessary in sports in today's world.
In an ending note, Tim take on loyalty is quite simple; you make decisions, and you live and die by the decisions you've made. We look forward to seeing how Tim Cahill's career will pan out after all he has accomplished.
This article was written by sports betting strategies analyst and writer Tony Samboras. Tony has been a lifelong fan of soccer and has enjoyed playing it as much as writing about it. After being given the opportunity to write full time Tony has since found a position analysing betting strategies for potentially one of the best sports betting systems at simplythebetsus.com