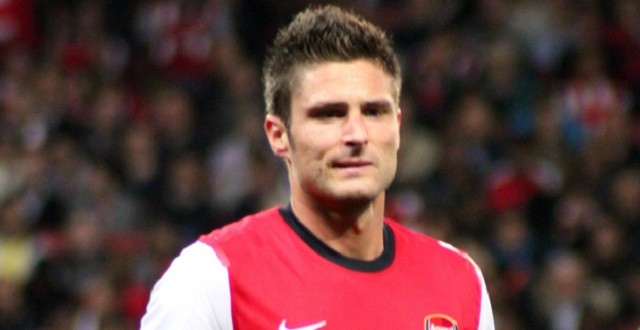 Arsenal has seen a number of players perform well for their nations during the past international break.
Theo Walcott, Alex Oxlade-Chamberlain, Olivier Giroud, Santi Cazorla, Alexis, and Aaron Ramsey all scored for their nations. Giroud and Cazorla both scored twice, whilst Alexis scored against Brazil, Ramsey helped Wales qualify for Euro 2016, and Walcott was England's star performer against Estonia.
Giroud came into the international break with a bit of pressure on him. France manager Didier Deschamps acknowledged that Giroud was a bit down, and the French striker only played ten minutes off the bench against Armenia in his country's 4-1 win.
However, against Denmark Giroud go the start and responded well by scoring Frances only two goals in a 2-1 win.
https://www.youtube.com/watch?v=HRw-LSOewkM
https://www.youtube.com/watch?v=qRbOa53Gvfw
Hopefully Giroud's performance for his country will provide a confidence boost for him when he puts the Arsenal shirt back on.
Another Arsenal striker that did well over the international break was Walcott. Walcott was England's brightest performer against Estonia, especially in the first half. He lined up on the right of midfield but played more like a wide striker. He saw a powerful volley parried away early in the first half before opening the scoring for England just before half time with a cool and collected finish.
Walcott showed confidence, good movement, and creativity against Estonia. He constantly found himself in dangerous positions and seemed to serve as the provider for most of England's chances.
The English striker did not feature during England's second game against Lithuania but Kieran Gibbs and Oxlade-Chamberlain both started for an England squad mostly consisting of youngsters.
Oxlade-Chamberlain had the bigger impact and scored England's third goal, a well placed shot hit with power to the near post.
https://youtu.be/oPThm_gc1pU?t=155
Cazorla started for Spain against Luxembourg and played the full 90 minutes. He scored twice, with his second goal coming from a well-placed shot that Arsenal fans hope he can replicate for the club.
Cazorla was an unused substitute for Spain against their 1-0 win against Ukraine.
Ramsey helped Wales qualify for Euro 2016, which marks the first time in 57 years that Wales will feature in a major international tournament. Wales qualified despite losing 2-0 to Bosnia Herzegovina, a game that Ramsey played the full 90-minutes in.
Ramsey featured in Wales' second match against Andorra and opened the scoring for Wales with a close range tap in. Wales went on to win the match 2-0.
http://www.dailymotion.com/video/x39jlpi
The other Arsenal players who featured for their nation included Petr Cech who started in goal against the Netherlands, Joel Campbell who is due to play the United States, David Ospina, Alexis who scored against Brazil but may be rested against Peru due to a groin injury, Mesut Özil, and Alex Iwobi who made his international debut for Nigeria against DR Congo.
As of now Petr Cech with the Czech Republic, Aaron Ramsey with Wales, Santi Cazorla with Spain, Mesut Özil with Germany, Theo Walcott, Danny Welbeck, Calum Chambers, Jack Wilshere, Alex-Oxlade Chamberlain, and Kieran Gibbs with England, and Laurent Koscielny, Mathieu Debuchy, and Olivier Giroud with France have all qualified for Euro 2016.
Barring injury, most of those players should feature for their country in this summer's upcoming tournament.