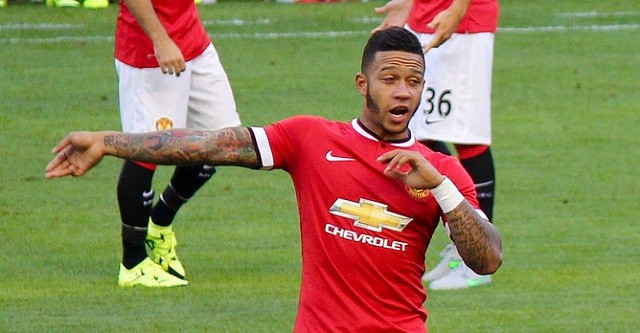 Manchester United winger Memphis Depay has clashed with former Red Devils star Robin van Persie in training while on international duty for the Netherlands national team, according to the BBC
Memphis Depay is certainly a young man with a lot of confidence as well as a bit of arrogance and while such characteristics are important to succeed at the highest level, he tends to get on the wrong side of his coaches and teammates at times.
Depay has irked many at Manchester with his flashy lifestyle
Recently it was reported that Depay was handed a dressing down by United assistant manager Ryan Giggs for his indulgence in a flashy lifestyle and it has now been revealed that the 21-year old has landed himself in another unwanted controversy.
According to reports from the BBC, Depay was involved in a training ground bust up with former Manchester United star Robin van Persie while on international duty for the Netherlands national team.
Tensions are running high within the Netherlands camp as they face the embarrassing prospect of failing to qualify for the upcoming European Championships in France and to make matters worse, Depay clashed with senior member of the squad van Persie ahead of the all important clash against Czech Republic.
Depay clashed with United hero Robin van Persie in training
Manager Danny Blind was quick to play down the incident and insisted that the issue between the two players has already been dealt with. Blind said, "There are sometimes situations in training where players think different. Then you talk about it. That's what happened and then it's over."
In addition to his poor form, Depay's off the pitch antics will most certainly be very concerning for Manchester United and it remains to be seen whether the 21-year old will be able to stay away from any further controversy for the rest of the season.