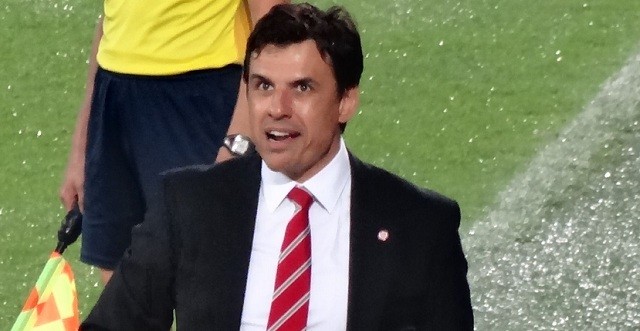 Welsh manager Chris Coleman said it was a dream for his side to qualify to the European competition, thus ending a 58-year wait to feature in a major tournament.
Coleman's side loss 2-0 in Bosnia was the first time they lost in 11 competitive matches. The side still managed to secure their ticket to France after Cyprus defeated Israel 2-1 in Jerusalem and ending Israel's hopes of a Group B top-two spot.
Wales will now head to France next summer, 58 years after their last major tournament at the 1958 World Cup in Sweden.
"I've never been so happy to lose 2-0," Coleman said.
"I don't think we deserved to lose the game as Bosnia were getting frustrated and we didn't make the most of the good situations we got into.
"But when I was walking off I saw our supporters were singing and our secretary, Mark Evans, whispered in my ear that Israel had lost.
"So I was all smiles and I can't honestly describe how I am feeling, it probably won't sink in for a few days.
"But it is an absolute dream. We've waited so long for this and, for me not, just as a manager or as a player.
"I saw it so many times as a kid as well. We've missed out so many times, so to finally do it is an unbelievable feeling."
Coleman paid tribute to the Bosnian side for the victory, saying, "We have nearly got there in the past, but we haven't delivered, "But these guys have done it and they deserve it. All the players of my generation and before me nearly made it to a major championship, but never did.
"This group have gone that extra yard. Their commitment to the cause from the start has been fantastic.
"We have only conceded four goals in nine games, two tonight, and that is a fantastic effort. They deserve everything that's coming their way." Coleman says.
Gareth Bale has been involved in eight of Wales' nine goals with six goals and two assists. Coleman has also said that the Real Madrid star deserves to play in a major competition with his country.
The best players should be playing on the biggest stage and he is going to have that chance now," Coleman adds. "He's scored some incredible goals to make it possible but it's not just his ability, it's his attitude and his mentality towards playing for Wales.
"It's the same with Aaron Ramsey, they deserve to be playing against the best players and the best teams in the world and now they're going to have that chance."
Bosnian coach Mehmed Bazdarevic was content with the result as his side is now in the play-off spot, he also praised Wales for their qualification.
"They did not come as a tourist, but to play well and pose us problems I would like to congratulate them on qualifying for the European Championship," Bazdarevic said. "We could have done better but I am delighted because it shows us where we want to be.
"The most important thing was our victory but the situation has become more complicated because Cyprus could also qualify for the European Championship.
"We play them in the final game and we know it will be tough."