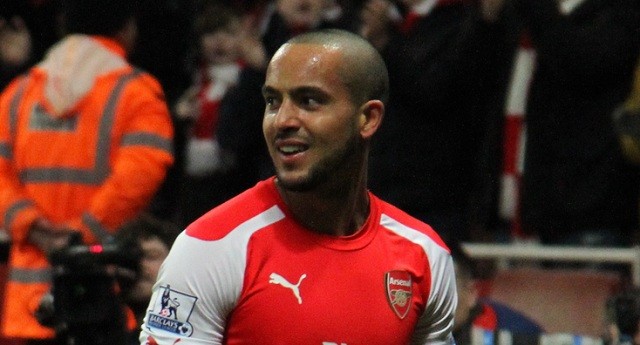 Theo Walcott played a total of 82 minutes for England against Estonia on Friday, as the Arsenal striker helped propel his country to a 2-0 victory.  England improved its record to an incredible 9-0-0 in UEFA Euro 2016 qualifying, and they have easily qualified for Euro 2016.
Walcott scored England's first goal in the 45th minute, as he continued his impressive run of form.  Walcott has now scored 3 goals and has 3 assists in his past 4 matches for both Arsenal and the English national team.  Walcott has really turned his season around recently after a bit of a slow start over his first few games.
In addition to scoring against Estonia, other aspects of Walcott's game were also on point.  Walcott managed to complete 5 successful dribbles, and he completed 26 of his 28 passes giving him a 92.9% pass accuracy for the game.  What was particularly impressive about this performance for Walcott was his ability to demonstrate that he has talents other than simply pure speed.
Walcott of course is known for his pace and movement, but against Estonia he demonstrated that he possesses the skill to dribble past opponents, and the ability to execute precise passes.   If Walcott can continue to demonstrate these attributes, he will became an even more dangerous player for Arsenal.
Although Walcott played a fantastic game, it should be noted that it came against an Estonian team that is not particularly strong.  Estonia currently has only 10 points in 9 matches with a goal difference of minus 4 in Euro 2016 qualifying, and they are certainly not one of the top European teams.
Estonia is not a team that contains Premier League caliber players, but the performance from Walcott is still a good sign.  If nothing else, it should help give him even more confidence going forward when he rejoins Arsenal next week.