The Olympic Games of Brazil 2016 are right around the corner, and along with the excitement it brings, CONCACAF is trying to decide who will be the ones to represent the region. There will be an Olympic Qualifying Tournament, which has already started. In it will participate favorites such as the USA and Mexico, as well as six other CONCACAF countries.
El Tri, are looking to qualify to the 2016 Olympic games in order to defend their title won in 2012. Their team manager Raul 'El Potro' Gutierrez has comprised an impressive list of promising young talents in Mexican football from both the domestic league and abroad.
After defeating Costa Rica and Haiti at the StubHub Center in Carson, California, Potro will most likely be looking to finish up the group stage with a win over Honduras as well. The win in Commerce City, Colorado will put either team at the top of its group.
This is the possible line up for Mexico's opening game against Honduras:
Goalkeeper
With an important player like Raul Gudino, who plays in FC Porto of Portugal, one would think that he would be the top choice for El Potro Gutierrez' starting line-up. But Gutierrez may favor another goal keeper, Gibran Lajud, who guarded the net for El Tri  during the Central American and Caribbean Games in Veracruz last December.
His brilliant goalkeeping was one of the many things that led Mexico to win the gold medal against Venezuela in the final. At this point in the group stage, Lajud has received no goals.
Defense
The defense line will likely contain five men. Rodolfo Pizarro will be playing as right back. It is a position he is not used to playing, as he is a central midfielder with his current club Pachuca, but it's a position he has played well. In addition, Pizarro has been playing in the Mexican first division for a while now, and his experience on the pitch may come as an advantage to Mexico's young team.
The center backs would most likely be Hedgardo Marin, Carlos Salcedo, and Jose Van Rankin. Salcedo, who has become a key player in Chivas, can help strengthen Mexico's defense against Honduras. Marin can also be an important man in the defense, since he and Salcedo know each other well, they will be able to help each other better. Van Rankin, one of the more experienced players, can bring leadership and can help consolidate the defense line.
Taking over as left back will most likely be Victor Guzman, who was on the starting eleven for both games against Costa Rica and Haiti.
Midfield
Erick Gutierrez would be the defensive midfield, helping his team mates in the back, while also being able to make passes to his teammates at the front. This is a position he is used to playing, as he is normally the defensive midfield in Club Pachuca's line up.
The right midfielder would be Raul 'Dedos' Lopez. He knows this position well, since it is the one he plays with Chivas de Guadalajara. In addition, Lopez is a very skilled player, good at making accurate center passes. He is also very fast and can outrun most opponents.
At the left midfield position would be Arturo Alfonso Gonzalez. Gonzalez has been in the first division of Mexican football. He is also one of the players that won the under seventeen world cup in Mexico 2011. Due to this, Gonzalez has a lot of experience on the pitch and can help convert goals every once in awhile.
Attack
Leading Mexico's attack would probably be Erick 'Cubo' Torres and Marco Bueno. Both are very talented players with impressive achievements. Bueno was also part of the team that won the under seventeen world cup hosted at their home, while Torres participated in the under twenty world cup that same year. Torres, along with other teammates managed to win first place.
Both Bueno and Torres scored at Mexico's first game against Costa Rica, but neither scored against Haiti.
Surely, both players will be looking to score against Honduras at their last game of the group stages as Mexico looks to defend their title at the Summer Olympics in Rio 2016.
(5-3-2)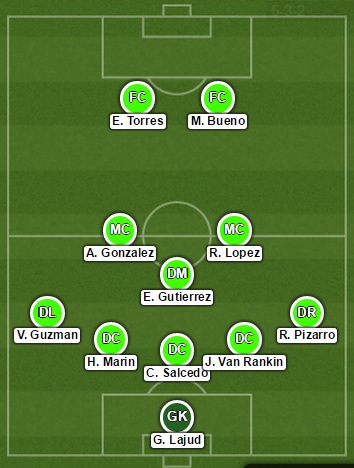 Via – Lineup Builder