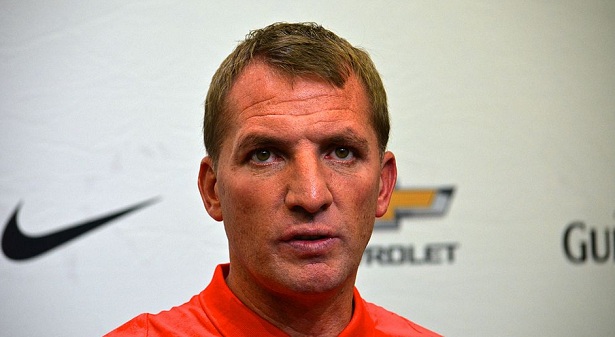 Liverpool manager, Brendan Rodgers, was sacked with "immediate effect" earlier today after Liverpool drew against Everton in the Merseyside Derby. Although, Liverpool's board of directors had made the decision to dismiss Rodgers before their clash with Everton, which ended in a 1-1 draw.
The Northern Irishman who took the Liverpool job in June 2012, seemed confident after his team's clash against Everton, "I don't feel any pressure whatsoever" he claimed in his final press conference as a Liverpool manager. It only took an hour for Brendan Rodgers to be officially sacked by Liverpool FC following a viral tweet and a club statement.
"We would like to place on record our sincere thanks to Brendan Rodgers for the significant contribution he has made to the club and express our gratitude for his hard work and commitment," read the joint Fenway Sports Group statement from principal owner John W. Henry, chairman Tom Werner and president Mike Gordon.
"All of us have experienced some wonderful moments with Brendan as manager and we are confident he will enjoy a long career in the game. Although this has been a difficult decision, we believe it provides us with the best opportunity for success on the pitch. Ambition and winning are at the heart of what we want to bring to Liverpool and we believe this change gives us the best opportunity to deliver it.
"The search for a new manager is underway and we hope to make an appointment in a decisive and timely manner."
The news of Rodgers being dismissed had many different reactions, with some fans celebrating the fact that he was gone, others still supporting him and finding the decision unfair, and some thinking that the decision wasn't made in a timely manner.
One of the people who supported Brendan Rodgers was Arsenal's infamous manager, Arsene Wenger, "I am always sad when that happens because I think he is a quality manager," he was quoted as saying about Brendan Rodgers.
"Unfortunately, the pressure is always bigger on the managers and to resist the disappointment's more difficult.
"I think he was unlucky not to win the Premiership. He was the closest certainly to win the Premiership of all the managers who have been working for the club.
"But that's the way it goes now and I wish him good luck. I am sure he will find a job again."
Rodgers was also highly supported by Swansea boss, Gary Monk, who was shocked by the news.
"I can't believe that. A very, very harsh decision. I don't think he deserved that at all," said Monk, who played under Rodgers at the south Wales club.
"He is a top manager. You don't know what goes on behind closed doors but I was surprised.
"I will speak to him at some point. He was fantastic here at Swansea. I can't see who else is going to do a better job for Liverpool at this moment in time so I am sad to hear that.
"I learned so much from him – he gave me the in-depth insight to be a manager and he is a top man as well. I am very surprised. It doesn't make sense to me, to be honest."
And while there are many different thoughts and reactions about Liverpool's decision to sack Rodgers, there are also talks and excitement about Liverpool's new manager, who is yet to be revealed. Speculations are that Jurgen Klopp is the frontrunner for the Liverpool manager position, but there are also talks of Carlo Ancelotti and Roberto Di Matteo being major candidates.