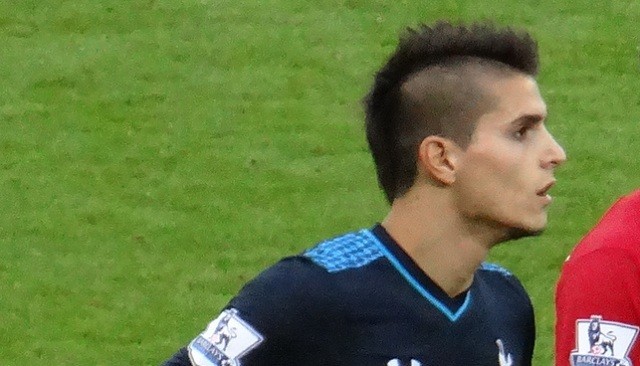 Tottenham will hope to continue their good form this Sunday at the Liberty Stadium where they'll face an 11th placed Swansea squad. Swansea was able to collect all three points at the Liberty last season against Spurs, but Pochettino will try to change that this year.
After winning 4-1 last week against City, Spurs fans might be brought back down to earth this week or there might just be more chatter about a Champions League run.
Goalkeeper
While Michel Vorm returns home to the Liberty, Hugo Lloris should start again in net. The French captain has proved himself again to be one of the best goalies not only in the EPL but in the world this season.
Left-Back
Ben Davies should continue to start at left back over Danny Rose, as he hasn't made any big mistakes this year and Rose hasn't done anything amazing in Europa League. An eerily similar situation to last season when Rose kept Davies out of the lineup, the Welshman should start as he returns home to the Liberty after transferring in 2014.
Center-Backs
Toby Alderweireld recorded his first goal last week against Man City and has been one of the best signings in premier league. Belgium's national team has to be happy that their starting defenders are working so well together and building a a lot of chemistry which should be on display at the Euros next year. Jan Vertonghen form has improved this year thanks to a steady partner in the back.
Right-Back
The England international, Kyle Walker, has improved this year, and after shutting down Raheem Sterling and Kolarov last weekend should start once again.
Center Midfielders
Eric Dier and Deli Alli are forming a good partnership in the middle of the park this year. An unlikely pairing in the summer, Dier has been one of Spurs' most important players, while Deli Alli has impressed enough in his short time to win a call up to the England national team next week when they face Estonia and Lithuania.
Attacking Midfielders
Nacer Chadli should return to the starting 11 as Son Heung-min is out injured with a foot injury. Christian Eriksen will hope to control the game from the middle while Erik Lamela will slot in on the right.
The resurgence of Lamela has been a huge surprise for Spurs fans who thought he was destined to be grouped in with Roberto Soladado, as good players who couldn't cut it in the EPL.  But Lamela has flourished under the confidence of his manager and right now is looking like the most-improved player in the premier league. 
Forward
Harry Kane was able to end his scoreless streak last week against City and will hope that the goals will start flowing now. But Kane is Tottenham's only true striker besides Adebayor who is once again lost somewhere inside the Lane, and worryingly Kane has already played 2,773 minutes in 2015, which is 300 more than Aguero and 800 more than Costa. 
Without a replacement at striker, there is concern that Kane could break down this season, which would be a devastating blow to Spurs. With so much to lose, it might be time for Pochettino to give Clinton N'jie a chance at striker.
(4-2-3-1)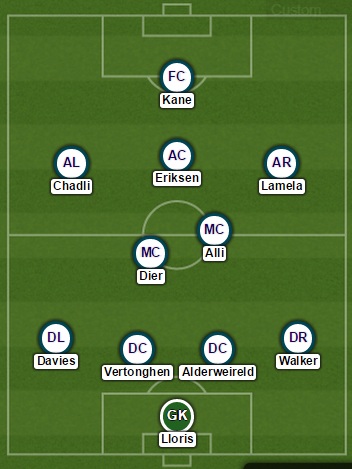 Via – Lineup Builder