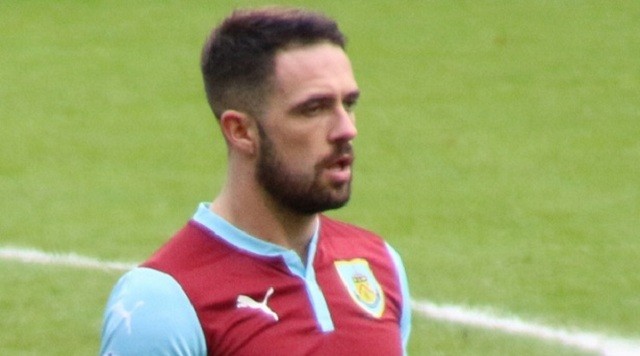 Liverpool's performances were once again disappointing, as they barely won against Aston Villa (3-2) in the Premiere League and drew against FC Sion (1-1) in the Europa League. And while the fans expected Brendan Rodgers to come out strong after Liverpool's disappointing performance against Carlisle United, Rodgers managed to let down the Reds' fans once again with an unexpected draw against FC Sion.
Although many thought that Brendan Rodgers had a more stable position on Liverpool's bench after they won against Aston Villa, Liverpool's unexpected and disappointing draw against FC Sion rose questions once again. Liverpool fans are also furious at Brendan Rodgers and are giving him one last chance against their Merseyside rivals, Everton. For this reason alone, Brendan Rodgers needs to win the Merseyside Derby against Everton, otherwise there is a high possibility that he could be sacked!
Goalkeeper – Simon Mignolet
Mignolet is an obvious choice for the goalkeeper position, as he is the only Premiere League proven goalkeeper that Liverpool has got. He is very inconsistent, and even though there weren't too many attacks on his goal against FC Sion, he conceded a goal that many believe he could've and should've saved. So although his performances are not the best, because of Liverpool's lack of quality among their reserve goalkeepers, Mignolet will most likely start against Everton.
Right Back – Nathaniel Clyne
Even though Nathaniel Clyne did not have a good game against FC Sion, he is one of Liverpool's best players in the defensive line and should most definitely start in the right back position. He is also a fullback rather than a wingback, which is something Brendan Rodgers should consider when setting up the formation.
Centre Back – Martin Škrtel
One of Liverpool's best players in the defensive line, Martin Škrtel will most likely start in the Merseyside derby. He also rested against FC Sion and should be completely ready for the face-off against Liverpool's Merseyside rivals, Everton.
Centre Back – Mamadou Sakho
A solid central defender for Liverpool, he wins most aerial duels and defends well. He is a much more stable central defender than Kolo Toure and Dejan Lovren, so he will most likely start against Everton in the Merseyside derby.
Left Back – Alberto Moreno
Although Joe Gomez has been a great defensive counterpart in the left back position, Brendan Rodgers knows that Liverpool needs goals on Monday. So Alberto Moreno who is a more attacking minded fullback, would be a very useful player for the Merseyside derby, with Brendan Rodgers hoping that he could provide opportunities for Liverpool's attackers.
Defensive Midfielder – Lucas Leiva
Lucas Leiva is easily one of the most consistent players in the Liverpool squad, and while he defends his line, he also provides good balls to the attacking players. He is an essential player who needs to start against Everton in the heart of midfield.
Central Midfielder – Emre Can
In Liverpool's two previous game against Aston Villa and FC Sion, Brendan Rodgers chose Emre Can to once again start in the Central Defensive position, which is a horrible decision as Can is a great midfielder but a mediocre defender. Emre needs to start in the Central Midfield position as he has got the perfect defensive and offensive balance.
Central Midfielder – James Milner
With his incredible performance against Aston Villa, he must be one of the first names on the team sheet for the game against Everton. He dominated the pitch against Aston Villa and scored an incredible opener to give Liverpool the lead, and that is certainly enough for him to start in the Merseyside Derby.
Attacking Midfielder – Philipe Coutinho
Liverpool fans love Coutinho because of his incredible quality, and will most likely see him start against Everton. And while sometimes Coutinho doesn't perform as well as he usually does, Liverpool fans would be hoping for him to be in form for the Merseyside derby.
Striker – Danny Ings
Danny Ings has been undeniably one of Liverpool's best players in the offensive line this season, and should definitely start against Everton. He has also scored a previous goal against Everton in the Burnley kit and Reds' fans will be hoping to see him do the same with the Liverpool kit.
Striker – Daniel Sturridge
Daniel Sturridge was exceptional against Aston Villa and showed Liverpool fans that the constant injuries have taken nothing away from his quality. He scored 2 of Liverpool's 3 goals against Aston Villa and was in great form. So Liverpool fans will be hoping for him to start against Everton, and to carry the same exceptional form into the Merseyside derby.
(4-3-1-2)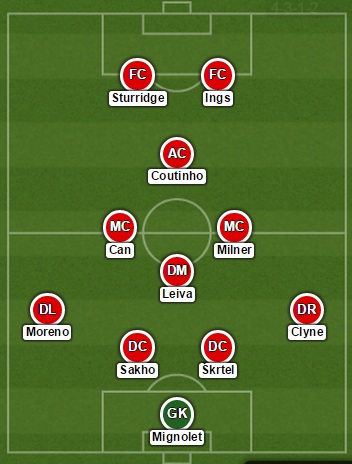 Via – Lineup Builder