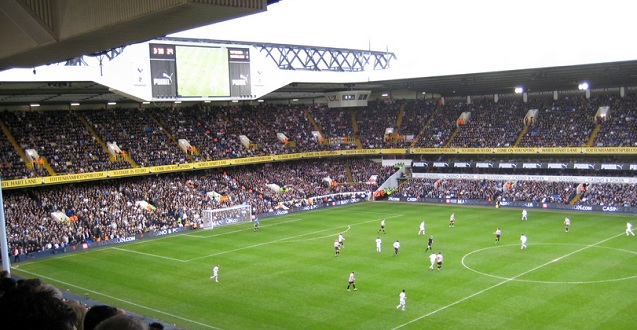 As my DVR powers down from an excellent recording of my beloved Tottenham Hotspur football club, I notice a few things that have made life better at the club, since I wrote my article telling the club to be great sooner rather than later. First, I noticed that Pochettino is doing a magnificent managerial job with a makeshift midfield (no further explanation needed).
Second, I notice that the Achilles heel of Spurs, the easily penetrable defense, is looking like they are finally awake for more than one match at a time, and willing to work within the high pressing system that Pochettino is infamous for using, which is nothing short of a miracle, considering that last year, Tottenham was eaten alive when it came to goal differential, (+5) with 53 goals against the club last year. This was my number one concern with Tottenham coming into the opening of the Premier League, but in the early going, it looks like they can be a formidable bend, but don't break defense, which they most certainly will be acceptable to them.
The last tidbit I noticed, but the most important, is the attack of the club, which has looked nothing short of amazing this season. Although poster boy Harry Kane is off to a considerably slow start, it seems like this could be the best thing that has happened for the squad. With young guns leading the charge next to Kane, all benefited greatly from this and have proven that they can run and gun up the pitch the best of them. The best way young footballers can gain quick confidence in top flight football is for them to have the attention and backing of their manager, which Pochettino is exhibiting greatly.
With all of those points being made, and the manager doing the best he has with this young bunch, the x factor on the season, is whether or not the players can adapt and respond to the long, and rigorous demands of the Barclay's Premier League. As an avid watcher and supporter of the club, and of English football, any fan reading this knows that the top players for each team have to be in form and they have to be dialed in for a season-long mission to get to the top four, and without further notice, I will now present the top 5 players Spurs will need in order to taste Champions League glory again:
1. Harry Kane: This wasn't too hard of a decision to make, considering he scored 30 goals in all competitions, and 21 goals for the Premier League. He is undoubtedly the leader of the youth regime at Tottenham, and his energy as well as activity are felt on the pitch, even when he is not scoring.
2. Son Heung-Kim: The second piece to the Pochettino forward combination, is the young South Korean international, who immediately paid an installment on his investment, when he scored in not only the Europa League, but cool and calmly sprinted down the pitch to secure a win in his first Premier League appearance for the club, which was gratifying for the kid as well as the club, and finally proving that Pochettino is committed to his ideals and his youth movement.
3. Erik Lamela: This kid looks like he is tired of being humble and I love every second of it! It looks as if he has truly bought in to the Pochettino way, and he is flying up the pitch, executing the late run into the box with perfection, and spacing himself out when necessary, in order for the next man to get the best shot. The way this lad is playing, he deserves a lot more credit, and a lot more responsibility in however fashion it comes.
4. Dele Alli: This might be the kid that Tottenham supporters look at me like I am Norman Bates, but hear me out! The kid is nice with it! He executes runs like he has been in the Premier League for seven years plus, and he is one of the more unselfish team members. Alli has nothing but time to get better, but he is taking every advantage of the opportunity now to do so, which is the difference between him and a crop of up and coming talent from other leagues.
5. Hugo Lloris: Captain "Hugo Boss" as I call him, is the defensive rock that every team needs when they are going through radical change or the youth movement that Tottenham is going through. I can't count how many times I have woken up at 7:30 am eastern standard time, to see Spurs look fantastic in the first fifteen minutes of a match, only to look like chopped liver for the rest of the match and have Lloris bail them out with top class saves that only Gigi Buffon and Manuel Neuer can make. He is the backbone of the team and will need to start faithfully in order to strive for that greatness we want Tottenham to live up to!