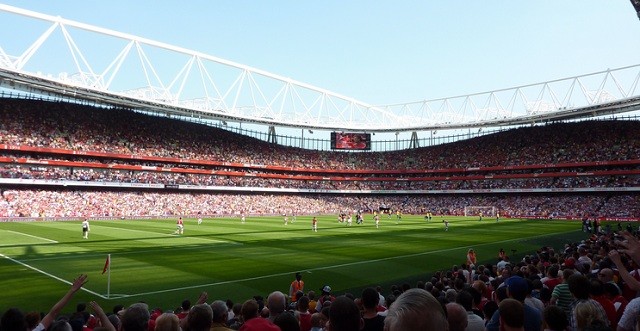 Arsenal play Manchester United at the Emirates Stadium on Sunday. A combination of an Arsenal win and a Manchester City draw or loss would see the Gunners go joint top of the table at the very least.
Unfortunately though, a second consecutive abysmal showing in Europe follows Arsenal into another big match. Two weeks ago it happened prior to Arsenal's match against Chelsea. This week, a 3-2 loss against Olympiacos at home follows Arsenal into their match against Manchester United.
Arsenal have problems in Europe, there is no doubt about that. Those problems should not follow the Gunners into the Premier League, though.
Teams in the Champions League tend to sit back and defend with nine or ten men behind the ball. This draws Arsenal forward and as we know, they become vulnerable. We saw this twice against Anderlecht and Monaco last season, and now against Dinamo Zagreb and Olympiacos as well.
Arsenal will not be beaten this way in the Premier League because teams do not set up to play that way. The Premier League has grown to become a more attacking minded team and fewer teams are as defensively stable as the Chelsea teams in the past decade, as Manchester United with Rio Ferdinand and Nemenja Vidic, or Arsenal during their invisible season or during the Tony Adams, Lee Dixon, Steve Bould, Martin Keown, and Nigel Winterburn era.
Last season Manchester United came to the Emirates and set up to play ten behind the ball and catch Arsenal on the counter. Arsenal won't have to worry about that on Sunday because of Man U's midfield. Last season, Man U had little choice but to play ten behind the ball because their midfield lacked the ability to control possession. This season however, Man U reinforced their midfield with Bastian Schweinsteiger and Morgan Schneiderlin, both whom of are possession based midfielders.
This will benefit Arsenal because they in fact look more dangerous on the counter than they do in possession. Theo Walcott has scored most of his goals this season on the counter, Alexis has used his teammates better this season when countering, and Mesut Özil is better when he has Walcott running into space. Now that doesn't mean that Arsenal are going to set up to play the counter, however they may be forced to if Man U dominate possession.
During his pre-match conference, Arsene Wenger revealed that Laurent Koscielny will miss out three weeks to the hamstring injury he sustained on Tuesday, but Francis Coquelin is set to go after coming through unscathed against Olympiacos. That means that Per Mertesacker will have to shake off the rustiness he showed during the week, and Gabriel will start in the league for the first time since being sent off against Chelsea.
Here is Arsenal's most probable starting lineup:
Goalkeeper – Cech
Petr Cech returns in goal after sitting on the bench against Olympiacos with a reported calf injury.
Much has been made of Wenger's decision to start David Ospina over Cech against Olympiacos, but the fact remains that Arsenal did not lose on Tuesday against Olympiacos because of Ospina. Yes the Columbian keeper had a howler of an own goal, however, he was not at fault for the two other goals he conceded.
https://www.youtube.com/watch?v=JEJ03nuvT7k
As the manager, Wenger has the right to choose who plays and who doesn't. He decided it was in the clubs best interest to start Ospina. Maybe Wenger made a mistake, but if Cech had started and possibly aggravated his reported calf injury, we would criticize Wenger for not managing Cech's injury better.
Right Back – Bellerin
Hector Bellerin continues his reign as first choice right back. Things aren't looking better for Mathieu Debuchy in the mean time after he was left out of the most recent France squad.
Center Backs – Mertesacker & Gabriel
Mertesacker and Gabriel start in the heart of Arsenal's defense. The pair has only started twice together and looked less than convincing against Olympiacos after Koscielny left with a hamstring injury. Mertesacker looked especially rusty and the German will need to recover quickly if he is to deal with the pace and movement of Anthony Martial and Memphis Depay.
Left Back – Monreal
Nacho Monreal starts after sitting on the bench against Olympiacos. Monreal had a smasher of a game against Manchester United in the FA Cup last season. He opened the scoring with a cool finish after some nifty work by Alex Oxlade-Chamberlain.
Kieran Gibbs did a good job against Olympiacos, although he was pulled a little too centrally on the Greek team's third goal. He looks more assured than he has done in the past few months. Gibbs was one of Arsenal's better performers on Tuesday.
Defensive Mid – Coquelin
It's fair to say that Olympiacos would not have scored their third goal if Francis Coquelin were on the pitch. It's concerning that Arsenal look more dangerous in attack, but vulnerable defensively with him off the field. This indicates two things.
First it shows that Arsenal have very little depth beyond Coquelin, especially when Mikel Arteta isn't available.
Second it shows that Arsenal has horrible balance in midfield. With Aaron Ramsey playing in Coquelin's position, Arsenal constantly threatened to break Olympiacos, with much of the danger coming through Ramsey.
Maybe this is an indication that it's time to move Ramsey back to center midfield in place of Santi Cazorla, while playing Oxlade-Chamberlain wide right in an effort to give him game time and allow him to break through his obvious confidence issues.
Cazorla would prove to be an excellent option off the bench because he is a versatile player who adds drive to the team. Cazorla is an excellent player, no doubt about that. However, Ramsey has twice now excelled centrally in the past week and Cazorla has been left wanting.
Center Mid – Cazorla
In spite of what was said above, Cazorla will get the start because this is the midfield that had been working. If Arsenal continues to concede like they did against Leicester City, Olympiacos, and Dinamo Zagreb, then just maybe will we see some tinkering in the midfield.
Attacking Mid – Özil
Mesut Özil was excellent against Leicester, but not so much against Olympiacos. He seems fired up for this Sunday's match though.
Wide Right – Ramsey
It wasn't a surprising to see Ramsey on the bench against Olympiacos considering he played in three matches in one week. Rotation is important and a lack of rotating in the past has seen the Welshman sustain long-term muscular injuries.
With both Luke Shaw and Marcos Rojo out with injuries, Ramsey may face a makeshift left back in either Ashley Young or Matteo Darmian. Against Wolfsburg, Darmian lined up as the left back and Young came on after halftime to play as the right back.
Wide Left – Alexis
Alexis is back in form and looking as dangerous as ever. He scored his fourth goal in two matches with a well-taken header in the Champions League on Tuesday.
More interestingly though Alexis and Walcott seem to have formed an interesting connection over the past two weeks. They both assisted each other's goals on Tuesday, and both of them seem to understand each other's movement and pace. Could this be the beginning of a dangerous if not unorthodox pairing?
Striker – Walcott
Although Olivier Giroud returns to the squad after serving a one game suspension in the Champions League, Walcott will continue his run in the first team. He has scored four goals this past month, but what is most encouraging about Walcott's play is his confidence and movement.
Walcott's movement has been exceptional the past two weeks. He has been breaking offside traps, utilizing the space given to him, and giving his teammates an outlet on the counter.
His confidence is sky high, which is especially noticeable when he misses chances. Walcott does not react negatively to missing a chance. Instead, he keeps working hard, and doesn't stop shooting. His confidence is affecting his overall game in a positive way, especially his hold up play, which was exceptional against Leicester last weekend.
We've also seen Walcott as a provider of goals again with a lovely cross For Alexis goal on Tuesday.
https://www.youtube.com/watch?v=yspJVdUVbb8
Robin van Persie and Walcott had an excellent understanding when the former was still at the club. During the 2011/2012 season, Walcott had 11 assists in the Premier League, with the majority of them going to van Persie. During that season, van Persie acknowledged just how important Walcott's assists and their understanding were.
(On a side note, you may also notice in that article that van Persie recognized Ramsey's ability to score goals a few seasons before the Welshman really started banging them in.)
Walcott's play is encouraging and if he keeps scoring goals with Giroud scoring regularly off the bench, which he has done consistently throughout his Arsenal career, Arsenal should not have much of a striker problem.
(4-5-1)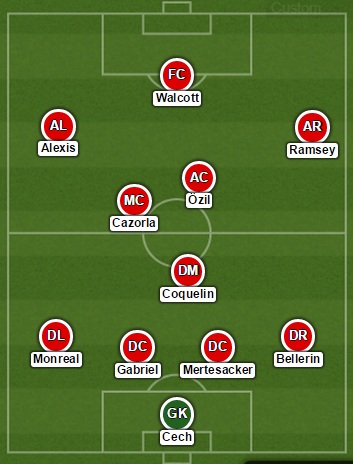 http://lineupbuilder.com/?sk=93j31