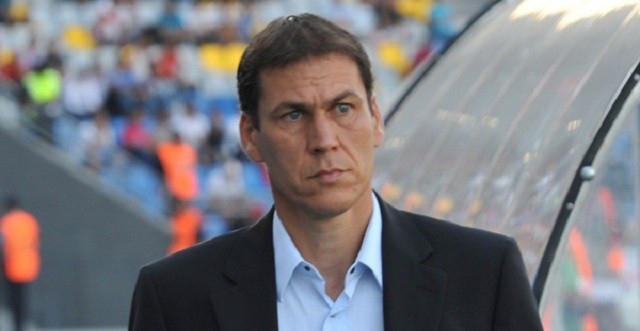 Roma manager Rudi Garcia is in the hot seat after a disappointing result in the Champions League against Belarusian club BATE Borisov. The Italians lost for the first time in this Champions League campaign, on the opening game Roma tied 1-1 with FC Barcelona at the Stadio Olimpico.
The French manager has been questioned over the fact that his side has only been able to win two of the six games they played in the league and Europe last month. The Italian side has also been plagued with injury, with the likes of key players Edin Dzeko, Seydou Keita, and Roma icon Francesco Totti all out.
On Thursday the Gazzetta Dello Sport reported that Garcia would be sacked if his side failed to beat Palermo on Sunday as Roma president James Pallotta is unhappy with recent performances. Pallotta said, "We have excellent players. Now Rudi must know who should play, and in what combinations," which does not particularly sound satisfied of what his current manager can show tactically.
Also adding on, "He can fix things, but he has to find the right chemistry between the strengths and the weaknesses of his individual players. We signed several strong players and some young ones who will do great things in the coming years."
Potential managers to fill in for the job include Carlo Ancelotti and Antonio Conte, although it seems unlikely Conte would give up managing the Italian national side with less than a year to go until the European Championships and his past with Juventus would not go well with the supporters.
Ancelotti was seen as one of the key players in Roma's legendary 1983 scudetto-winning team that came close to winning the European Cup a year later, only to lose it in penalties. Other than being a fan favorite in Rome and already saying he would like to return to the Italian capital one day, the former Real Madrid manager has managed in some of the top leagues in the world and won multiple titles.
Although, Roma extended Garcia's contract in May reportedly worth around €2.8 million a year until 2018, a significant amount of money would have to be shelled out if they want to get rid of the Frenchman. It still, in a way, seems unlikely that Rudi Garcia would be leaving the club any time soon as summer loanees, Edin Dzeko, Mohamed Salah and Iago Falque all signed contracts buying them from their former respective clubs.
Something that would not have been likely done if the club were to get a new manager, as the new manager would most likely want to bring in his own players. On top of that, several players have already showing them backing the coach, at least publicly. One of them being Alessandro Florenzi who said, "We're in our third year with Garcia, and we're all with him," after the defeat in Borisov.