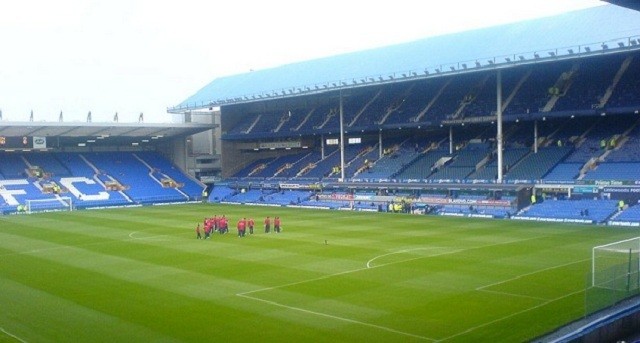 Brendan Rodgers and Liverpool were unable to jump on the momentum they built last week in a 3-2 victory over Aston Villa and they produced yet another listless performance in a 1-1 draw at home to Sion in the Europa League. Even if Rodgers fielded a weakened squad, even the second tier players should be good enough to beat a team that is currently in 5th place in the Swiss Super League.
As lifeless that match was, the players have a great chance to jump start the season with the first Merseyside derby of the year on Sunday in Goodison Park. This match is a great opportunity for the players to show that they are capable of competing for a top-four place and Rodgers will be extremely motivated to buy some more time to save his job.
Goalkeeper
While Simon Mignolet hasn't been bad exactly, it looks like he and his defense struggle to communicate at times. The defense in front of him are prone to mistakes and Mignolet cannot be expected to bail them out every single time.
With a dangerous Everton attack as his opponents this week, Mignolet will need to be at his best and he has to make sure to organize his defense especially during set pieces.
Center-Backs
If there is any match where it would be great if everything falls into place for the trio of Emre Can, Martin Skrtel and Mamadou Sakho, it would be this match. As weak as the attack has been for Liverpool, the defense has conceded more than a few dumb goals and they cannot afford to play badly since they are going up against Romelu Lukaku.
Lukaku could very well be the best Belgian player among the two squads and he has proven that he will take advantage of any mistakes that the Reds' defense makes. Aside from Lukaku, the rest of the Everton players are also capable of winning the game on their own as well.
Right Wing
Nathaniel Clyne has been solid but unspectacular so far this season and it should be much of the same against Everton. He is playing in an unfamiliar position but his defensive skills will be much needed against an Everton squad that has more than a few capable wingers on the squad.
As long as Clyne keeps his side of the field clear of any danger and is able to cover for Can when he goes rampaging forward, fans should be satisfied with his performance.
Center Midfield
Both James Milner and Lucas Leiva were rested against Sion and they definitely needed that time off since they have a very difficult task this weekend. So much of the match will be decided as to whether they are able to negate the influence that Ross Barkley has on Everton's attack.
Barkley is arguably Everton's best player and hopefully Milner and Lucas are able to leverage their experience and defensive know-how to at least keep the young midfielder in check.
Left Wing
With Jordon Ibe failing to capitalize on a midweek start, Alberto Moreno should get another start. He has been very involved in most of Liverpool's threatening forays forward the past few matches and he should see much of the ball once again. As usual, his speed and willingness to cross the ball into the opponent's penalty box will at least give the Reds' attack more life than usual.
Attacking Midfield
As he has been for much of the season, Philippe Coutinho will be looked upon to provide the spark that the team desperately needs. However, he hasn't been able to be that player for the past few weeks, his communication with players in front of him has been inconsistent at best.
On the other hand, Coutinho looked much much better last weekend with the return of Daniel Sturridge and the two of them should generate more than a few chances during the derby.
Forwards
Unless the knock that Danny Ings suffered against Sion proves worse than first thought, he will almost definitely start alongside Daniel Sturridge this weekend. The two strikers will be counted to try and build on the strong 3-goal performance they had last weekend against Aston Villa. Ings has not had an ideal start to his Liverpool career but his high work rate and intelligent reading of the game should lead to goals sooner rather than later.
Sturridge is still one of the most formidable strikers in the Premier League and his well-rounded skills should shine once again. If there is one thing the team should focus on, it should be getting a goal in the match as soon as possible. Sturridge still isn't completely fit to last the entire 90 minutes and he looked extremely tired late last week.
(3-4-1-2)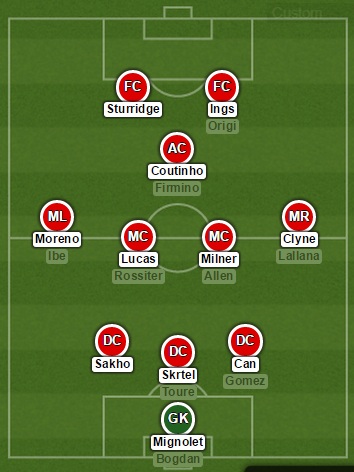 Via – Lineup Builder