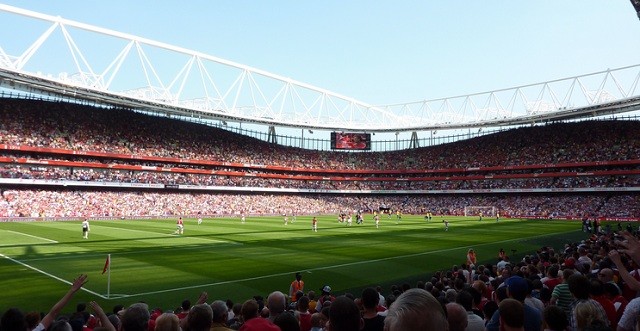 Manchester United will look for revenge against Arsenal on Sunday for the last season's disappointing FA Cup loss. Michael Carrick and Ander Herrera should be fit to face the Gunners at The Emirates, as Marcos Rojo's joined Luke Shaw on the sidelines.
Goalkeeper
The Moon will rather fall than David De Gea will lose his No. 1 spot this season. Another big game anticipates another cinematic performance from the Spaniard.
Defense
It's a grace to have a two-footed full-back in your team; Matteo Darmian feels like oregano over pasta on his favored left wing. On the opposite side, Antonio Valencia still shows some signs of unbearable struggles.
LVG had to replace him with Ashley Young in the second half of the long-awaited European night at Old Trafford. However, the ex-Watford and Aston Villa man is a ballistic weapon, and his skills are far more profitable in the attack. Thus, the Ecuadorian will get another chance on the right-back's spot.
The partnership of Chris Smalling and Daley Blind may sometimes turn comical (ask Daniel Caligiuri), as if the ghost of Jonny Evans is still there, yet match after match both are getting more and more imperturbable. Daley Blind, in particular, starts to play an instrumental role in the beginnings of The Red Devils' attacks, as his Frank De Boer-like accurate long-balls tend to cut the rivals' defenses in pieces.
Midfield
Some radical Man United fans already want Bastian Schweinsteiger to be their next captain. Let's be honest: having a World Champion controlling the most important side of the pitch gives some predatory feeling of supremacy.
Morgan Schneiderlin has a perfect role model in the German superstar, yet he still lacks some self-control; he could've been easily sent off against Wolfsburg, if the referee had a Spanish/Italian passport. Luckily, Michael Carrick is fit to play and to extend the sweet statistics of leaving the pitch victorious whenever being in the starting line-up.
Memphis Depay can break anyone's ankle with his feints, but his selfishness will rather turn him into a Luis Nani, than into a CR7. LVG might sooner or later bench him to land the young Dutchman down from the clouds of his own untouchability.
Were the Juan Mata vs. PSV and the Juan Mata vs. Wolfsburg actually the same man? If yes, than whoever said, that only after reaching the bottomless pit one could revive and climb to the skies, was a pure genius. And Juan Manuel Mata was a pure genius last Wednesday: 98% (!!!) of passing accuracy with 100% of accurate long-balls, plus some neat tricks and that assist. I bet, Zlatan fainted when watching the replay of Mata's aerial back-heel supply on the internet.
Wayne Rooney is not forever young. That's a fact and let's deal with it. There is a bitter feeling in the air, that it's the captain's armband that keeps him in the starting eleven. Ander Herrera may become a regular in trequartista's role one day subject to improving his attacking credentials. Yet, as of today Wazza still remains the man for the big matches. Expect him to score at the Emirates, folks.
Attack
Anthony Martial is astonishingly confident with the ball. His pace allows him to play wider – on both flanks – if needed. And if he's destined to be the next Thierry Henry, how heart-breaking it will be for the Arsenal fans witnessing the young French star (with such familiar movements) rising upon their own home ground.
(4-2-3-1)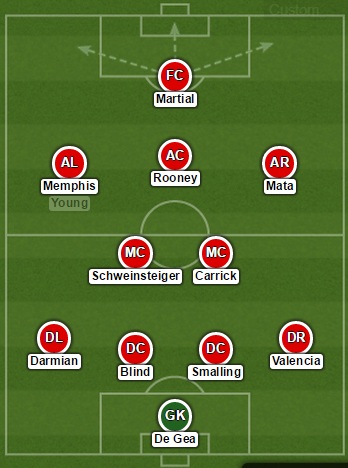 Via – Lineup Builder