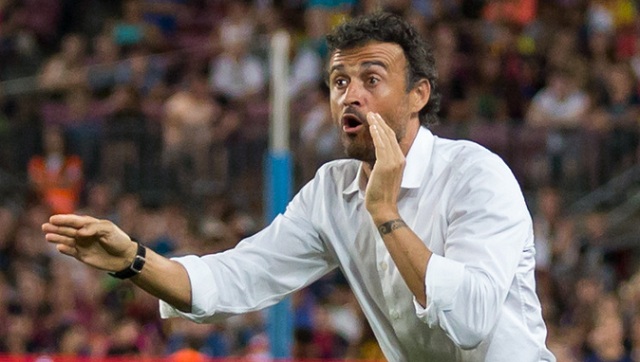 The Catalans face a tough challenge this Saturday when they travel to face Sevilla at the Pizjuán Stadium. Sevilla desperately need to step up their game as they currently sit in 16th in La Liga, compared to Barca's 2nd place standing.
A positive Barca are visiting Seville fresh off their latest fixture against Bayer Leverkusen, which saw them come out on top with a dramatic 2-1 win. Barcelona are looking to keep a good run of form from all of their current squad without talismanic players such as Lionel Messi, due to his knee injury.
Unfortunately, a particularly rough week is in store for Barca forward Neymar. Tax evasion claims, legal disputes between himself and the Club and problems with his agent Wagner Riberio (who prefers the Brazilian to move to Real Madrid?) are just some of the things that would left off the pitch as he tries to make an impact this Saturday.
Defense
In goal is Marc-Andre Ter Stegen. With Claudio Bravo still injured, he's the choice to save a few shots from a struggling Sevilla side.
A good choice for left-back would be Jordi Alba. Although Luis Enrique is still reluctant to change Jeremy Mathieu's current LB role, Jordi Alba is the best one on the team and should start against Sevilla.
Gerard Piqué and Javier Mascherano is likely the ideal defensive duo. They need their top center-backs to put on a good performance this time around, since their last away performance was abysmal when they lost 4-1 to Celta de Vigo.
We could see Marc Bartra start at right-back but Dani Alves looks like the first choice. We can expect see heavy attacking play from Sevilla who need these 3 points, so pace is require for accuratr challenges, which Bartra can provide.
Midfield
Against Leverkusen, Andres Iniesta suffered a hamstring injury in the 60th minute of the match. Without him, we see Ivan Rakitic and Sergio Busquets guaranteed to start.
To take Iniesta's place, Munir El Haddidi or Sergi Roberto are solid choices. I lean towards Roberto for physicality and El Haddidi to replace him later in the match, more likely for the last 30 minutes. 
If not, El Haddidi is probably going to come in for offense.
Offense
Luis Suarez has hit a great run of form, coming through when Barca needed him most. A brace against Las Palmas and the game winning goal against Leverkusen makes him the starting center forward. 
Neymar will start at the left and will surely be motivated to get on the score sheets as he's scored a goal in each of his last 2 away games. Sandro Ramírez will be at the right wing to accompany them.
This is going to be a difficult match if Luis Enrique doesn't play his cards right. With injury plaguing the some of the starters, he has to rely on his current squad with Barca B talent on the bench to beat Villarreal at the #1 spot in La Liga's standings with a win on Saturday.
(4-3-3)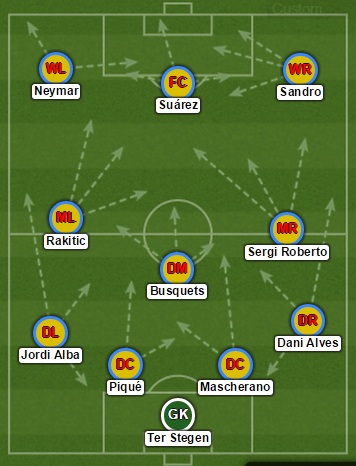 Via – Lineup Builder