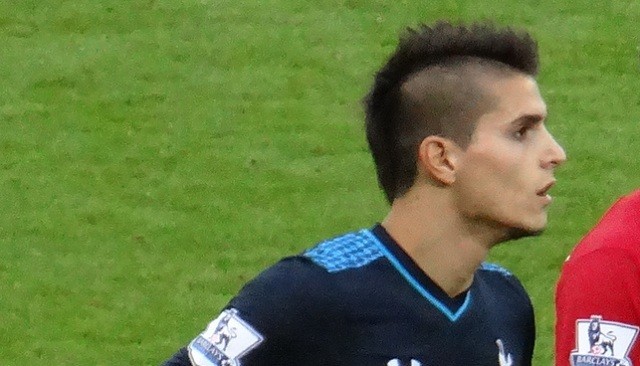 Tottenham Hotspur looked to ride a string of strong matches as they squared off against Monaco in preliminary Europa League play. Last Sunday, Tottenham dominated Manchester City with speed, skill, and creative passing, but today something was missing. Eriksen was ineffective, Kane struggled, Trippier commonly left his man open for services on the wing, and the Belgian defensive duo was beaten over and over in the air.  Somehow, Tottenham escaped with a 1-1 draw after an 81st minute Monaco strike.
Yet, there were still important positives that came from this lifeless tie. Erik Lamela, who was supposed to be one of the main Gareth Bale replacements, disappointed the North London fans last season as he failed to both score or even look productive. However, the last two matches he has been the star for Spurs.
In a lifeless first half, the 23 year-old Argentinian was desperately trying to add pace and make plays. Whenever possible, Lamela attacked defenders and looked to cut inside to produce a shot or a lay it off to an in-stride forward. In addition, Lamela continuously worked hard to fulfill defensive responsibilities and was eventually rewarded.
In the 35th minute, just above his own 18-yard box, Lamela retrieved the ball, rolled it over to his right foot and made a gorgeous pass to Nacer Chadli.  Lamela proceeded to finish what he stared after a couple nice plays from Dele Alli and Chadli. The young left winger popped in his 2nd goal in as many games and impressed in 64 minutes of play.
Last season, you could not help but feel like he had so much more to give, but something has sparked in the last month for Lamela. Manager Mauricio Pochettino knows that if Lamela can continue to be a threat on the left wing, the Spurs youthful creativity and speed will frighten any back four in the English Premier League.
Right now the EPL seems wide open. If this Tottenham team continues to play beyond their age, it should not surprise anyone to see them squeak in the top-4.
Spurs face off against Swansea City this Sunday.