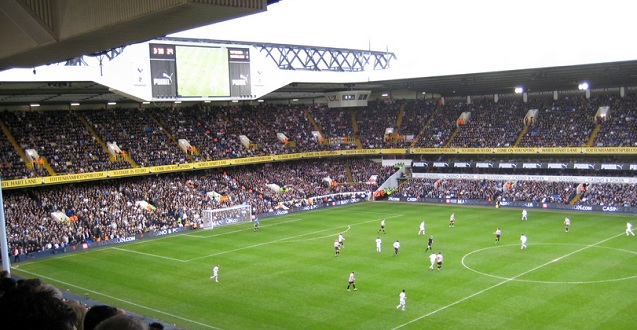 A repeated statement among the Barclay's Premier League, is the staggering question of "Can Tottenham break past the tier of mediocrity in England's top flight football community?" As a Tottenham fan I want nothing more than this to happen, but as an objective writer, I see the same old Spurs who, after years of starving for more Champions League play, have made all of the smart economic moves, but have made little to no moves in the place that matters the most, on the pitch.
Under the direction of Daniel Levy, the Tottenham faithful have seen the likes of Gareth Bale walk away for a pretty penny might I add (£91,800,000), then turn around and see "the ghosts of money spent" walk through White Hart Lane, by the names of Roberto Soldado, who cost the club £25,800,000, Paulinho, whose price tag came to £17,000,000, and Erik Lamela, who Tottenham dished out another £25,800,000 for.
Two out of three of those costly players have now moved on from the club and had seen their time at the lane last about as long as a quick visit from an American escort, the other, Lamela, is still with the club, finally looking like the 25 million euros the club signed him for. How long the run will last is completely up to manager Mauricio Pochettino, who I have a bit of faith in, I just have to see this team play more defense for me to completely jump on the managers bandwagon.
Fresh off of an emotional 4-1 win over league leaders Manchester City, Tottenham Hotspur are again looking like a Champions League contenders with the requisite pieces in place to make a legitimate run. With the clubs numerous efforts to expand its brand, with the new 65,000 seat stadium looking to host a bevy of NFL games, this team can ill-afford to continue looking to overseas ventures to solve their on-the-field issues.
When I saw the breakdown on Tottenham courting the NFL to a very lucrative 10 year deal, my first thoughts of course went to the financial side of the deal in which, will bring in excess of 2.5 million dollars, with the stadium holding at least 2 games per year, and with anyone who watched the football games hosted at Wembley Stadium would know this was a great move.
Now with that, you can say that Tottenham look like a team that will start to get great brand and name recognition, but where does that leave the club that routinely will call the new place home? This is the second thought I always have with my favorite football club, all the "smoke and mirrors" and no substance on the pitch.
The young lad Harry Kane, will be a driving force to continue to bring the fans to the stands, I just hope all of this new money can bring in the complimentary pieces. With the new youth movement, which I happen to be a fan of, Christian Erikson, Son Heung-min, Toby Alderweireld, Nacer Chadli, and even Erik Lamela, will bring some great play under Pochettino, if he can get them going in the same direction as Southhampton.
To this point I've only mentioned a few players and the manager, but this is a call to every player, manager, and owner in the conglomerate holding group, "This team must win, and win fast!" This year and the next couple of years will mean more to Tottenham than any one fan can think.
Would you honestly tell me that Spurs, in the next 3 years can open a brand new stadium, host sacred NFL games for another demographic, and host other lively events in the London area, full of ineptitude, as they've been these last 2 years? That would put them in a great position brand wise, but the fans and brand will always need to be revived, simply because the football club itself will be over-saturated by mediocrity.
If any fan out there, especially those who have been fans much longer than myself, then you know this is a cry for greatness, and winning cures everything! Although this is a task more difficult to perform, than it is to say This club is rich with historical prominence, and this new move can catapult Spurs into new heights, I just hope that the chairman, down to the academy players can grasp the fact that winning league games and hardware will be imminent in order for the club to shoot for top-tier territory (say that 5 times fast).