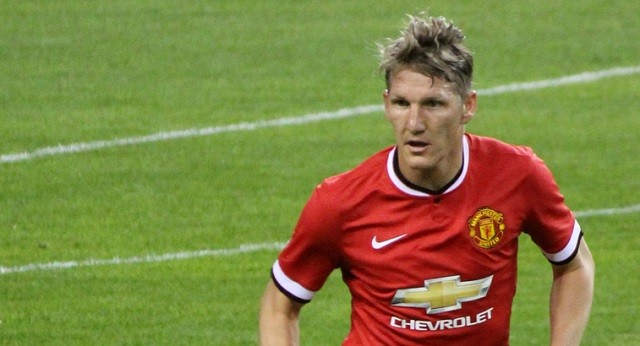 Manchester United normally ease themselves into games by lulling teams with possession and controlling the pace. Today's 2-1 victory over Wolfsburg was different. 4 minutes in, a moment of massive defensive confusion led to a Daniel Caligiuri goal to put Wolfsburg up 1-0. Immediately, Old Trafford had the life sucked out of it. Bastian Schweinsteiger, who has played the most Champions League matches (91), showed his leadership and took over the midfield.
Yesterday, according to the Manchester Evening News, Louis Van Gaal spoke of the 31 year old World Cup winner, "he has already accepted as a leading player and that is why also we have bought him from Bayern Munich . . . I believe in mixtures between youth and older players and he is an example for the young players." After Wolfsburg's early strike, the Champions League veteran vamped up his compete level making for a dominant 70 minutes of play.
Schweinsteiger played like he had something to prove as it was the first time he matched up against a German club since his offseason departure. He made crowd pleasing tackles and interceptions in the 9th, 19th, 27th, and 37th minute, but it was in the 32nd minute where he made an offensive impact. Schweinsteiger read the play, intercepted a pass, moved it up the field and moments later, Juan Mata was awarded a penalty kick.
In the 53rd minute, even his mishaps turned to gold. Schweinsteiger's whiffed volley came straight to Mata, who's acrobatic pass lead to Chris Smalling's winning tally.
His passion was fierce, he was always part of the play, and he commanded the pace. After moving 62 passes (most in the game), Van Gaal subbed him off in the 70th minute. From then on, United was in a bit of disarray without his calming presence.  Schweinsteiger owned the midfield and was the most influential player in United's 2-1 victory. 
Like any great leader, Schweinsteiger never gets lazy, he understands the play beautifully, constantly communicates with teammates, and simply a winner. He is the perfect fit for a youthful United squad who have all the tools to be a future powerhouse. 
Offensively, Mata was the most dangerous offensive player on the pitch and deserves mention.  His penalty was decisive as he knocked it in the left corner and later, his spider-kick assist to Smalling was as pretty as they come.  As Wayne Rooney struggles to find an impact in games, Mata has truly stepped up. Look for the veterans strong form to continue in their Sunday clash against Arsenal.