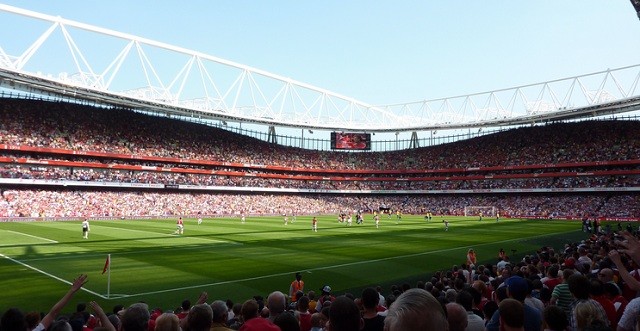 Arsenal's latest UEFA Champions League lose to Greek side Olympiakos was full of headlines as goalkeeper David Ospina scored an own goal after failing to reign in a corner kick, leaving the Gunners on the outside-looking-in to qualify for a spot in the final 16.
It would be easy to look at the match and point out countless flaws in Arsenal's play that led to their demise, blaming Arsene Wenger's decision to put David Ospina in goal instead of Petr Cech or an all-around lackluster performance from the back line, but all might not be bad at the Emirates.
After a sluggish start to the season, striker Alexis Sanchez appears to have found a spark.
In the Gunners first eight matches of the year, Sanchez appeared non-existent, adding only an assist in Arsenal's lose to Croatian club, Dinamo Zagreb, and was visibly flat on the pitch during most of his minutes. Sanchez though, now appears poised to build upon his outstanding play last year for Arsenal, proving to be a good addition to Arsene Wenger's squad.
Sanchez not only had a part in both of Arsenal's goals in their match against Olympiakos, assisting in Theo Walcott's opening strike before adding one of his own, but did this after coming off an impressive hat trick against Leicester City.
Arsenal have recently rocketed to fourth place in the Barclay's Premier League table, and show no signs of slowing. While only seven matches into the Premier League season, Arsene Wenger's side are putting themselves in a position to contend for a league title against the likes of Manchester City and Manchester United.
As easy as it is to fret over the Gunners' admittedly sub-par performance, Arsenal look to be in a good place going forward.
Alexis Sanchez is becoming increasingly comfortable alongside Theo Walcott and Mesut Özul, and the ever-dependable Petr Cech has been playing lock-down defense between the goal posts. While there will surely be ups and downs along the way, Arsene Wenger has put his club in a strong position to contend with the best in the Premier League, and a confident Alexis Sanchez is presence Arsenal will surely need if they hope to raise the Premier League trophy at the end of the season.