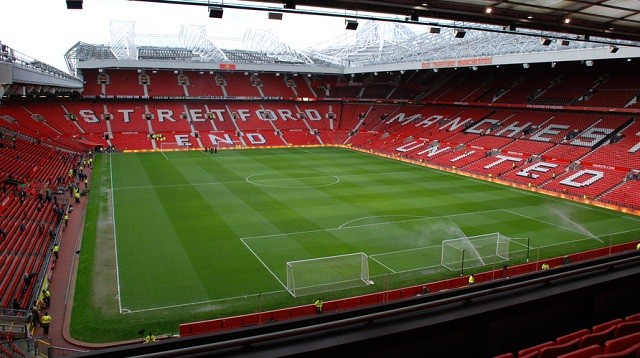 All is well for the 20 time Premier League champions, as they rightfully took their place to the top of the league with a convincing 3-0 over a sorry Sunderland side this past weekend. This is the first time in over two years that Louis van Gaal's men will be sitting on top of the English Premier League table. Goals from Memphis Depay, Wayne Rooney, and Juan Mata assured the Red Devils all three points, and a one point lead over second place, Manchester City.
With the all important Manchester Derby on the 25th of October, United will look to keep the momentum moving forward with a tough match-up against Arsenal next weekend, but they must first have to contend with Wolfsburg in the Champions League Group stage this Wednesday.
Wolfsburg currently sit 4th in the Bundesliga, and are coming off a 1-1 draw against Hannover 96 this past weekend. Having played at home against the 18th placed Hannover 96, and only claiming one point, Wolfsburg's confidence won't be high at the moment, but they'll certainly looking to claim a point at Old Trafford on Wednesday.
After losing the first leg of the match-up against PSV Eindhoven, United will hope to claim all three points, while playing in front of the Old Trafford faithful. Here is the strongest possible line-up United may use at the Theatre of Dreams.
Goalkeeper
In past seasons, David de Gea, certainly received the most acclaim as the most reliable player on the pitch, however, with United clicking at the moment, his outstanding play may be flying under the radar.
Nevertheless, he remains the strongest option for in net, especially with back up, Victor Valdes, being targeted by other Premier League rivals.
Defence
Chris Smalling and Daley Blind had another strong performance this past weekend, with the latter setting up United's first goal with a well-timed pass.
Versatile, Matteo Darmian, will certainly be in the starting back four, but this time back on the right side, as Ashley Young will return to play on the left. Young made an instant impact off the bench, setting up Mata for the final goal that finished off Sunderland.
Midfield
No stranger to Champions League glory, Bastian Schweinsteiger, will make his return to the midfield and partner with Morgan Schneiderlin in front of the back four. In front of them will be this past weekend's goal scoring trio: Memphis Depay, Wayne Rooney, and Juan Mata.
United will look to Rooney, fresh off scoring for the first time in the league and a veteran of Champions League play, to lead them to victory.
Forward
Anthony Martial will lead the line for van Gaal's men after putting in another strong performance at Old Trafford last weekend. Although he did not score against Sunderland, the Frenchman's pace and direct play was on display, and will be needed to assure United all three points.
(4-2-3-1)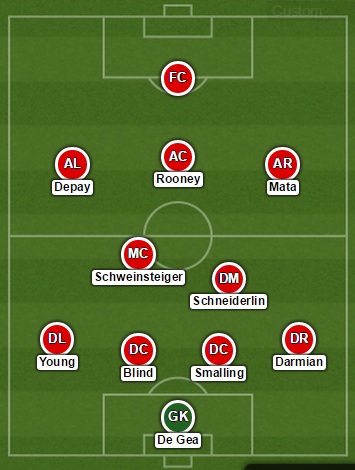 Via – Lineup Builder