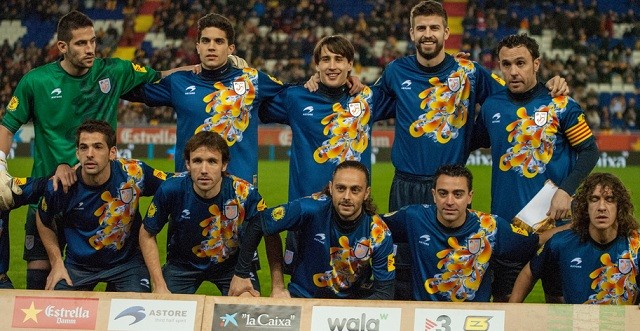 Catalonia is one of the most populous regions in Spain and is home to the city of Barcelona, artist Salvador Dali, architect Antonio Gaudi-famous for designing Sagrada Familia in Barcelona, the Catalan language and quite a few good soccer players. 
In a recent election over the weekend, Catalan pro-independence parties won a an absolute majority in the Catalonia parliament, securing 75 of a possible 135 seats. The separatists now have the seats needed to move forward and declare independence within the next 18 months. But, this is still unlikely, Catalonia is one of Spain's wealthiest regions and the government in Madrid has already said they would fight any attempt of succession in court.
So, while Catalonia and Madrid argue over independence, and others dwell upon the geopolitical implications, let us take a look at what is really important: a Catalan World Cup Team. 
The Catalonia national soccer team was founded in 1904 and played friendlies against club teams like FC Barcelona and Madrid FC. It wasn't until 1912 that they played an international match losing 7-0 to France. After the Spanish Civil War, they continued to play games even while Dictator Franco was banning the Catalan language and the flag. Since the 1970's the team has regularly played international friendlies and recently Dutch legend Johan Cruyff served as coach from 2009-2013.
If Catalonia is able to achieve independence they would then be allowed to compete in the Euro and the World Cup, and while Spain would be weakened, Catalonia could become one the best teams in the world drawing heavily from FC Barcelona.
Strongest Possible Catalan World Cup Side: 4-3-3 with Captain Xavi
Goalkeeper
Victor Valdes, mostly a backup on the Spanish national team, would finally get his chance to lead the ranks as the #1 for the Catalans. Valdes was born in a municipality directly southwest of Barcelona.
Left Back
A big blow for Spain as the Catalan's steal their starting left back, securing the services of Jordi Alba. One of the best left backs in the world, the Barcelona man hails from the same municipality as Valdes.
Center Backs
Gerard Pique has already made eight caps for the Catalans and would slot in nicely at center back. Pique was born in Barcelona and besides short spells at Man United and Zaragoza he has played his whole career for Barca.
A few years ago Pique may have played alongside longtime partner Carles Puyol for Catalonia, but sadly the long haired Catalan retired in 2014. He might be tempted to come out of retirement for the Catalans, but for now Pique will have to partner fellow Barcelona center back Marc Bartra.
Right Back
Without any very big names to call upon at right back, Catalonia has already given Martin Montoya four caps in the national side. After playing sporadically for Barcelona over the past five years, Montoya has just recently been loaned out to Inter Milan where he has yet to make an impression. But the 24-year old Catalan is talented and should only get better with time.
Defensive Midfielder
Drawing yet again from Barcelona, Sergio Busquets would anchor the Catalan midfield. Born in the city of Sabadell, north of Barcelona, Busquets would play the same role he has played his whole life for the Catalans, providing cover to the defense and steel in the midfield. The Spanish national team would sorely miss his presence.
Center Midfielders
Playing in front of Busquets would be Xavi Hernandez and Cesc Fabregas. Although aging and not as good as he once was, Xavi has already made a 11 appearances for Catalans and would wear the captain armband.
The Chelsea man, Cesc Fabregas, would fill a role he has long wished for in Spanish side but been denied do to the likes of Iniesta and Xavi. Although played often in a false nine with Spain, Fabregas is at his best when playing in a deeper role where he can dictate the game. Febregas' form has dropped significantly from last year for Chelsea but the Catalan would surely find a place in the squad.
Left/Right Wing
Up front the side is not as strong, but they are young and full of potential. At left wing, hailing from the same city as Busquets, Chistian Tello would provide width and the possibility of goals from the left flank. Tello is currently on loan from Barcelona playing his trade in Portugal where he has scored seven goals for Porto in 29 appearances.
On the right wing, the newly signed Evertonian Gerard Deulofeu would provide some flair and a direct approach down the right side.
Forward
At striker the Catalans would call upon Bojan Krkic who has already made seven appearances for the Catalans scoring an efficient six goals. Bojan was signed by Stoke in a surprise move in 2014, and has impressed during his short time there. The Catalans would need goals from the 25-year old and he would certainly get his chances with Xavi and Cesc playing behind him.
Manager
While they already have a manager in former player Gerard Lopez, and while they could bring back Johan Cruyff, they could also go in another direction. With such excitement being garnered over a new national side, they would need a coach that could match that excitement: Pep Guardiola.
A Catalan, who made seven appearances in side when he was a player, there is no one better suited to coach the Catalan national side then Pep Guardiola. In addition to representing his home country, Guardiola has also already coached many of these players at Barcelona where he had unprecedented success.
With Guardiola coaching this side, they could easily become a top team in Europe and the world.
(4-3-3)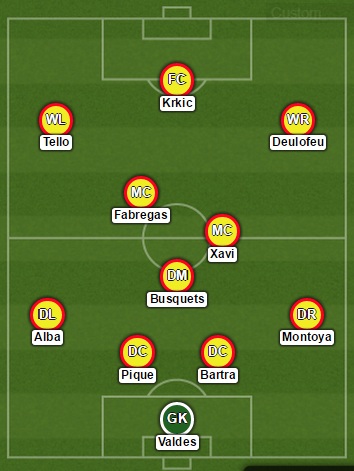 Via – Lineup Builder