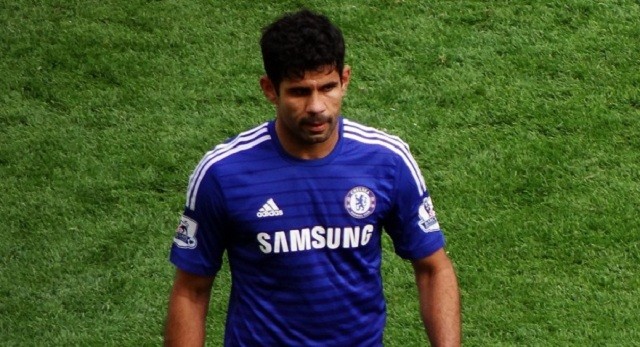 When everyone thought that Chelsea's turmoil was over, the Blues added another chapter to their tragic campaign this season. José Mourinho's men weren't able to get anything better than a 2-2 draw from their visit to St James' Park last Saturday and they are now on the 15th place of the English Premier League table. Two late goals from Ramires and Willian granted Chelsea a point against a Newcastle side that have lost its North a long time ago.
At the end of St James' Park match, José Mourinho vented out against his players by claiming that his side's first-half performance was "minus one out of 10", while he was certainly still trying to digest the childish defensive mistakes from his back line's quartet.
José Mourinho himself will have to deal with some mixed emotions when Chelsea visit FC Porto next Tuesday. The Portuguese manager's return to the city and to the club that helped him achieve his first major international trophies will probably be complicated, since both the supporters and even some board members have not yet forgotten how Mourinho left the two-times European champions back in 2004 after winning the UEFA Champions League.
José Mourinho's stint with FC Porto, more than a decade ago, was memorable. The Setúbal born head coach helped the Dragons return to their good old days of the late 1980s by winning a UEFA Champions League, a UEFA Cup, two Portuguese Leagues, one Portuguese Cup and one Portuguese Super Cup after just two years in charge. Regardless these impressive achievements for the club, there are still thousands of supporters that never fully understood why Mourinho left the club the way he did and why he appears to have lost his empathy for both the club and the city.
FC Porto are currently at the top of the Portuguese league table alongside with Sporting CP and were especially motivated until last Friday. The Dragons overcame their all-time rivals of SL Benfica seven days ago, thanks to a goal from the newcomer André André, and certainly no one could have expected their stumble at Moreira de Cónegos against Moreirense last Friday.
Chelsea will need to make amends if they want to take something positive from their travel to Estádio do Dragão next Tuesday, as FC Porto tends to show no mercy on their opponents when playing in front of their enthusiastic supporters. That being said, this might probably be their strongest line-up for upcoming important UEFA Champions League match at the beautiful city of Porto.
Goalkeeper
Asmir Begovic keeps being the most reliable element of Chelsea's sloppy defensive line so far this season and, with Thibaut Courtois sidelined due to injury, he remains the best option to defend the London club's net.
Defence
Ivanovic and Zouma had a nightmarish performance against Newcastle last Saturday as they are the ones to blame for the Magpies' first goal, when Ayoze Perez took advantage of their indecisions to send the ball into Begovic's net. Nevertheless, both the Serbian and the French defender will certainly be part of Chelsea's defensive quartet alongside with Cahill and Azpilicueta.
Midfield
Mourinho will certainly maintain his midfield backbone with Fàbregas and Matic playing in front of the defensive line and with Pedro Rodriguez, Hazard and probably Ramires composing Chelsea's five-man midfield line.
Foward
Diego Costa is set to return to Chelsea starting XI after missing last weekend match at St James' Park due to suspension. Although being far from his best sharpshooting days, the Brazilian born Spanish international remains José Mourinho's best option for assuming the centre forward role.
(4-5-1)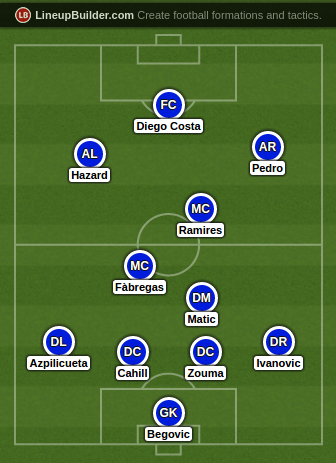 Via – Lineup Builder