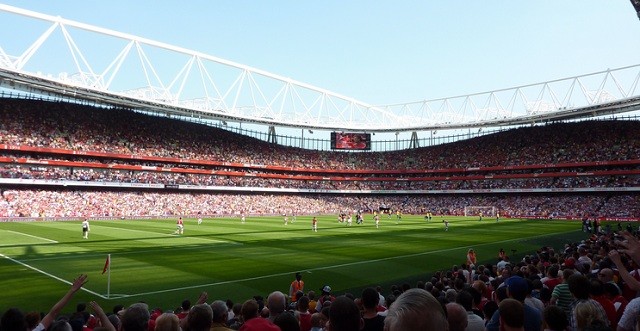 Arsenal will look to kick start their Champions League campaign on Tuesday when they play Olympiacos at the Emirates Stadium.
Arsenal lost their first match in the group stages against Dinamo Zagreb two weeks ago. Arsenal needs to win Tuesday if they plan to advance through the group stages for a 19th consecutive time under Arsene Wenger. A draw or a loss would likely require Arsenal to beat Bayern Munich at least once, while also winning their rematches against Zagreb and Olympiacos.
Arsenal come into this match with some momentum having beaten Tottenham 2-1 on Wednesday and dismantling Leicester City 5-2 on Saturday. Both of those matches were away and both saw Arsenal exhibit a degree of mental toughness and fight that they had been lacking the past two weeks.
Considering Arsenal's poor start in this competition, Wenger is not likely to field a weaker team and we should see minimal changes. Arsenal's next match is on Sunday against Manchester United, giving the players five days rest in between matches.
We may see Kieran Gibbs come in for Nacho Monreal, with Alex Oxlade-Chamberlain and David Ospina also in contention. Otherwise Wenger will rotate his squad minimally.
Here is Arsenal's probable lineup against Olympiacos.
Goalkeeper – Ospina
It seems that Wenger plans on playing David Ospina in all cup competitions, including Europe, for the time being at least. Ospina is a capable goalkeeper who shouldn't cause too many nerves.
Right Back – Bellerin
Hector Bellerin was excellent against Leicester City. He was dangerous going forward and showed intelligence with his positioning. If there is one critique of him though, it is that he does not close his opponents down quickly enough when they are in front of him.
Too often against Leicester did Bellerin allow their right back to put in crosses with ease. Bellerin also failed to close down James Vardy on Leicester's second goal when the Spaniard had plenty of time and space to do so.
Mathieu Debuchy is not likely to feature much this season until he can exhibit some kind of match fitness and special awareness.
Center Backs – Gabriel & Koscielny
Wenger has interesting decision to make at center back. Gabriel returns to the squad after serving a one game suspension for failing to leave the field when he was sent off against Chelsea. Prior to his suspension, Gabriel was playing extremely well in the absence of Per Mertesacker. However, Mertesacker is now fit and has played well in two consecutive matches alongside his usual partner, Laurent Koscielny.
Wenger will likely go with Gabriel on Tuesday, simply because Mertesacker will have played three matches in six days after returning to the squad after a months absence.
Gabriel is the more athletic player compared to Mertesacker and it seems only a matter of time before Gabriel usurps Mertesacker in the pecking order.
Left Back – Gibbs
Gibbs will get the start on Tuesday thanks to his excellent performance against Tottenham on Wednesday. Monreal equally had a good game against Leicester on Saturday but Wenger has two good left backs that both deserve playing time. Gibbs will need to take advantage of the opportunities that he is given.
Defensive Mid – Coquelin
In his post-match conference on Saturday, Wenger revealed that Francis Coquelin could make a return against Olympiacos after missing the past two matches with a knee injury sustained against Chelsea.
Mathieu Flamini injured his hamstring against Leicester and won't be available on Tuesday. If Coquelin can't play, Mikel Arteta will start.
Central Mid – Cazorla
Santi Cazorla had an up and down match against Leicester. It looked like he was having a difficult time playing with Flamini instead of his usual midfield partner, Coquelin. His performance improved in the second half while playing alongside Arteta but Wenger may want to consider Aaron Ramsey in this position if Coquelin can't play.
A midfield of Ramsey and Arteta would give Arsenal a more robust duo, and the two players previously shared an excellent midfield partnership during the 2013-2014 season.
Considering that we are predicting that Coquelin will play, Cazorla should play as well.
Attacking Mid – Özil
Mesut Özil was superb against Leicester. He played Bellerin through with a beautiful pass before the Spaniard set up Alexis for the Chilean's first goal against Leicester. The German playmaker assisted Alexi's second goal with a sublime cross that landed right on Alexis' head.
Özil had a chance to score later in the match when Oxlade-Chamberlain set him up, but Kasper Schmeichel saved well. After the match Wenger conceded that both he and Özil were frustrated that the German international didn't score.
Wide Right – Alex Oxlade-Chamberlain
Oxlade-Chamberlain is the only Arsenal player to make in appearance in every one of the club's matches this season. He will start in place of Ramsey on Tuesday in an effort to give Arsenal a speedy front three.
Wenger recently spoke of how Oxlade-Chamberlain needs to be less critical of himself and show belief in his abilities. After starting so brightly against Chelsea in the Community Shield, the English youngster could use a start accompanied with a quality performance.
Wide Left – Alexis
Alexis looked like he was back to his usual self against Leicester City and punctuated his performance with his first hat trick for the club. Alexis' third goal was an exceptional piece of individual skill. His first touch took the ball around an oncoming defender before he unleashed a low shot to the bottom corner from outside the box.
Alexis looks like he is set to go on a good run of form, which is a scary thought for Arsenal's upcoming opponents. When he hits the form he showed on Wednesday, it is extremely difficult to keep him out of the squad. Wenger admitted as much when stating his belief that Alexis is a world-class player.
Striker – Walcott
Theo Walcott scored his third goal of the season with a nice break away goal that he put past Schmeichel with his left foot. Saturday was Walcott's most complete match as a striker. He should excellent composure in front of goal, intelligence with his runs and movement, and strength when holding the ball up.
Olivier Giroud is suspended for this match after being sent off against Dinamo Zagreb.
(4-5-1)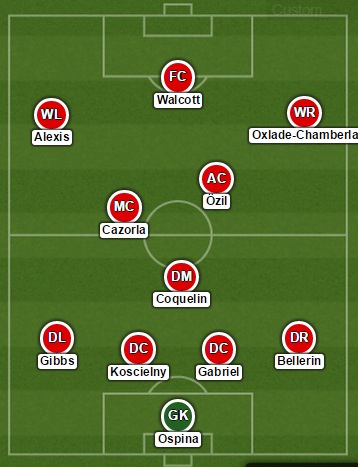 http://lineupbuilder.com/?sk=92s6