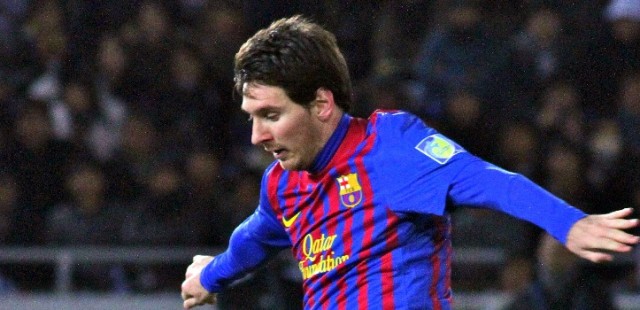 Lionel Messi suffered a torn knee ligament after only playing 4 minutes against Las Palmas UD at the Camp Nou on Saturday. FCB's medical staff has confirmed this on the club's website and approximate that he will be out for 6-8 weeks.
Despite a 2-1 win in the end, fans left the field concerned as the star Argentinian went down 5 minutes into the match, frustrated and in pain. Munir El Haddadi took over the right wing in his absence. 
This has been his latest injury since November of Barcelona's disappointing 2013-14 season where Messi torn his hamstring, sidelining him for 2 months, missing 9 games in all competitions. The aforementioned season saw the club win no silverware for the first time in five years as both Real Madrid and Atlético Madrid won the Copa Del Rey and the La Liga title against them, respectively. Messi often left the field being booed at by fans.
This puts a lot of pressure on Neymar and Luis Suárez to become a physical, goal-scoring presence going forward over the course of Messi's injury as their next 3 matches sees them face Bayer Leverkusen (who currently lead Group E in the UEFA Champions League) and both Sevilla FC & Rayo Vallecano in La Liga.
Many will speculate that Barcelona's dreams of another treble are now over due to "Messidependence"  which is the idea of Barcelona rely on Lionel Messi too much during their off days. But Barcelona's problem lays not necessarily with the offense. The defense is what will ruin their season. 
Let's look at some facts. Barcelona have conceded 7 goals in 6 matches, nearly 1.2 goals a game, according to Squawka.com. Their loss to Celta de Vigo was the first time they've lost 4-1 since losing to Real Madrid during the 2007/08 season.
With an inconsistent list of defense selection nearly every game combined with Ter Stegen's generally poor form, the defense is becoming the problem. Barcelona has scored 11 goals in 6 matches with Messi being a huge contributor; He got most created chances and most assists out of anyone at the club so it's not him or the offense.
Once Barca determines how much of challenge a fixture will be and the quality of their performance going forward, then we see the magic of substitutes such as El Haddadi and Sandro Ramírez in action. But during tougher opponents and rapid counter-attacking sides, it leaves the pressure to the backline and goalkeeper.
Barcelona needs to keep a consistent back four, despite injuries. Keep the same players in their natural position, match after match,  and we will see improvement. Mathieu has struggled nearly every time he's been picked as left back. He should start games rather than play somewhere he's not adapting to. Keep him as a center-back and nothing else. Adriano or Bartra should start at the LB role until Jordi Alba recovers. Dani Alves also has a great substitute in Sergi Roberto for a right-back but letting him play a full 90 minutes is understandable as he still has great pace at 32.
In terms of midfield, nothing really has to change. What I believe is good is that Mascherano should convert himself into a defensive midfielder when a defender comes on. He's plenty familiar with the role at both Barca and during his time at Liverpool.
Neymar is unpredictable and knows how to set up a play well. Suárez is a key goal poacher, is ideal during crosses and has given us plenty of assists last season. As long as they keep they heads high and take this new responsibility in their stride, they should have no problem.
Messi's absence is a huge blow to Barcelona's title hopes but we are still looking at a confident Catalan side that's 2nd in La Liga and that can deliver. Their encounter with Leverkusen will be the biggest challenge to see how they fair without him.