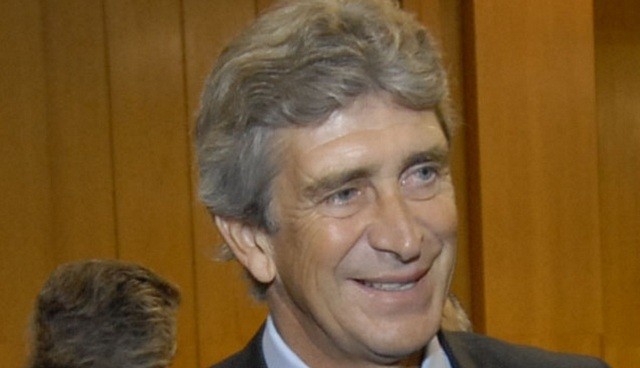 Man City got back on the right track Tuesday thrashing Sunderland 4-1 in the League Cup. Pellegrini ran out a mostly unchanged side in the midweek due to a substantial amount of injuries, but was able to rotate the squad at the half when the game was already at hand.
Man City will attempt the carry over the good form to White Hart Lane this weekend as they face a solid on Spurs team on Saturday.
Goalkeeper
Joe Hart
England's #1 hasn't had much work to do this campaign conceding his first goal in last week's loss to West Ham. After getting a rest in the midweek he will return to the side and hope to kick start another string of clean sheets at White Hart Lane.
Right Back
Bacary Sagna
Sagna has started every game for City this year with Pablo Zabaleta coming into the the campaign injured. Fitness may become a concern for Sagna and some other players as Pellegrini did admit after the league cup game that he wanted but was unable to rotate some players due to injury. Luckily for City though, Sagna has been in excellent form and it may be difficult for Zabaleta to oust him from the starting lineup when he does return.
Center Backs
Pellegrini is hopeful that club captain Vincent Kompany will return to the side following an injury and this would be a big boost for the squad as Mangala is set to miss the match due to injury. I would look for Kompany to partner Nicolas Otamendi this week as they try to make sure Harry Kane stays off the score sheet.
Otamendi has started the last two games putting in solid performances after transferring this summer from Valencia. This would be the first pairing between the two but it is very important that they develop some chemistry for the future. This partnership will be interesting to keep an eye on.
Left Back
Aleksander Kolarov
Like Sagna, the 29-year-old Serbian has had to start every game this campaign as Gael Clichy has been away with injury. A player who is always looking to get forward may need to stay at home a little more this weekend as he will most likely need to deal with Lamela and the overlapping runs of Kyle Walker. Kolarov will get forward though and is always dangerous on free-kicks.
Center Midfielders
Yaya Toure is another player that has not gotten much rest this campaign but is in good form and should anchor the midfield with Brazilian Fernandinho. The partnership has been very effective so far this season with both players in good form.
I would look for Yaya to make a few marauding runs this game while Fernandinho stays mostly in front of the back line. How both players perform will may impact the game more than any other position.
 Attack Midfielders
Like the club captain, David Silva is also set to return and should start in the middle with Raheem Sterling on his left and Kevin De Bruyne on his right. This would be the starting trio that every Man City fan has been waiting to see. Sterling and De Bruyne both shined on Tuesday and will become even more lethal with inclusion of the play making Spaniard.
If Silva is unable to start, De Bruyne would shift to the center with Jesus Navas starting as a right winger. But if the trio is able to start I would look for all three to interchange and cause headaches for Tottenham's back line.
Forward
Sergio Aguero
Aguero netted a penalty against Sunderland in the league cup but was still not in his top form. Like against West Ham, he was unable to convert on various chances and will hope to find his form against Spurs. Optimism for City fans will be high as Aguero has scored more goals against Spurs than any other side he has ever faced, netting 10 in total. City fans will hope that he is able to add a couple more to the already impressive number.
(4-2-3-1)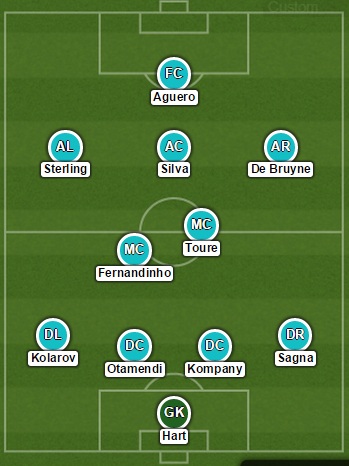 Via – Lineup Builder